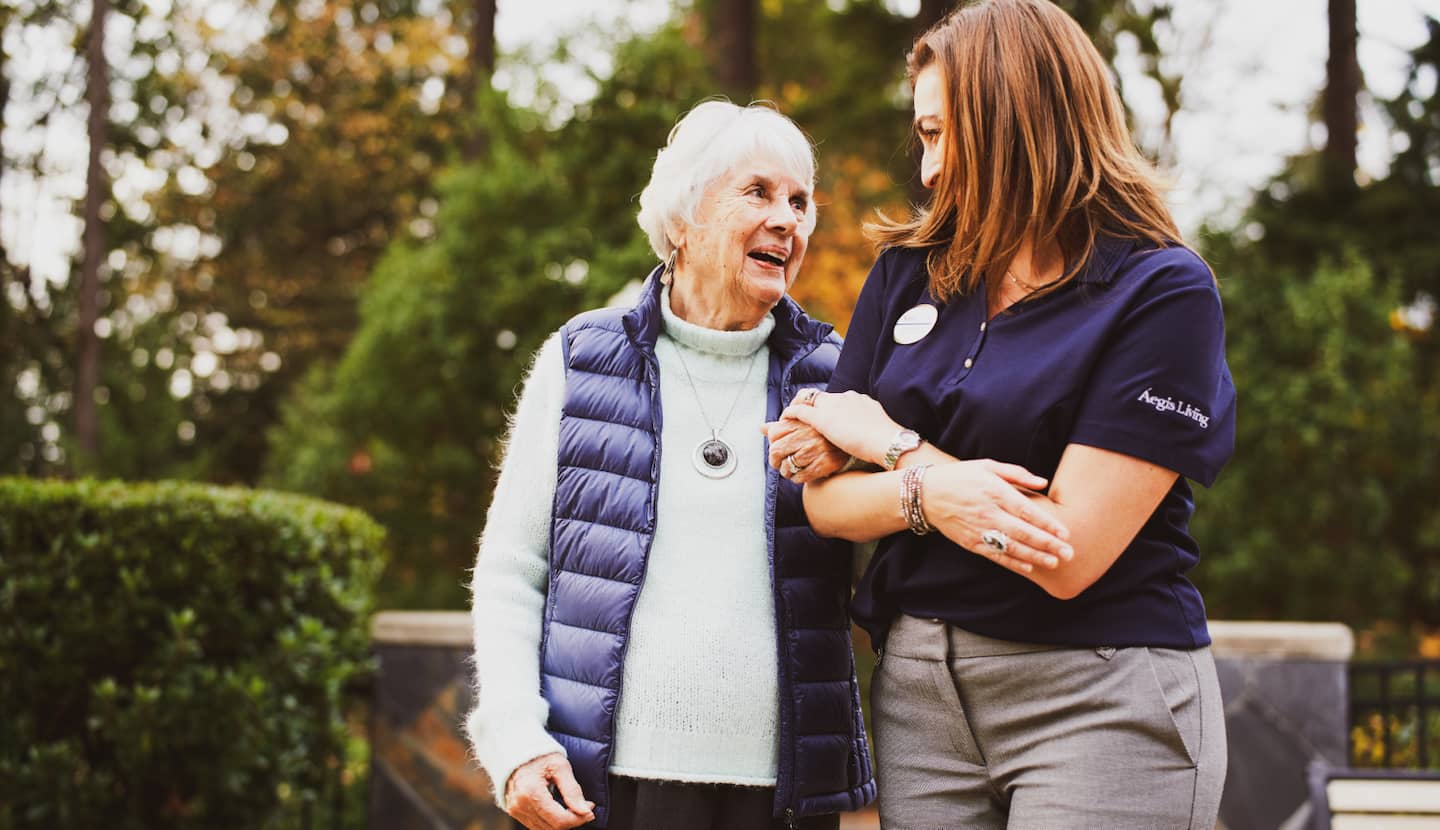 Dealing with Medical Emergencies
Many families worry about their loved one living alone and needing medical support. Understanding our capabilities to address an incident or change in condition with your loved one is a primary objective of our families and loved ones.
Families find comfort knowing their loved one in an Aegis Living community has around-the-clock staff in their home. Our teams, including our nurses and care staff, pride themselves in getting to know our residents and understanding them holistically, as individuals. This understanding, along with our systematic approach to monitoring residents' health, allows us to identify changes in behavior or medical conditions so that we can take the appropriate interventions. It allows us to react to conditions such as falls, stroke-related symptoms, heart attacks, and other medical emergencies. Our family partners express confidence and peace of mind knowing that they are notified of changes in their loved one's condition.
During the COVID-19 pandemic, Aegis Living was faced with an unprecedented situation to protect our residents and keep them safe. Aegis Living has long-established infection control protocols and sanitation practices to protect against the spread of infectious illnesses—especially during flu season. We enhanced these protocols and practices and are extra vigilant about safety, hygiene, and infection control. From the onset, our Vice President of Clinical & Health Services quickly worked with the CDC and local public health officials to implement best practices that would meet and exceed their recommended guidelines for care, including daily screenings of staff, visitors, and residents. During this health crisis, Aegis Living was able to quickly deal with the emergency, and all departments modified or added programs for the protection of our residents.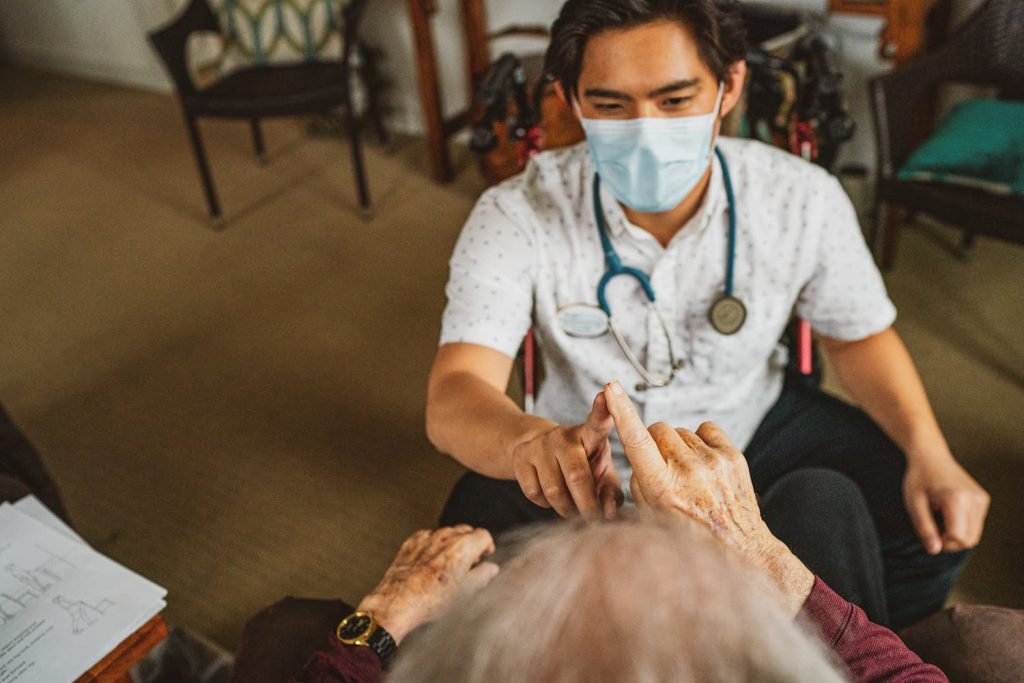 Our Innovative Safety Measures
Falls are one of the biggest health concerns among the aging population. According to the Center for Disease Control, 1 in 3 adults over the age of 65 experience a fall every year. At Aegis Living, while we recognize that we can't prevent falls, we have taken some precautions to promote stability for our residents, and to assure that we can be there to assist if falls happen. Check with the staff at the community you are considering to confirm availability of these tools.
Motion Lights. Sensory activated lighting is installed in our memory care apartments. It automatically activates the bathroom light when a resident enters the restroom to promote safe guidance.
Alert Motion Sensors. In addition to the sensors that activate the bathroom lights, motion sensors are used to notify staff of movement activity in our memory care residents' apartments at night. These sensors are directed in such a way as to be activated when there is resident movement so our staff can check on the resident to offer support in their activity; whether it's to provide them with a glass of water, provide them emotional support, or address any concerns, care assistance, or medical support.
Alert Pendants. Medical alert systems come in the form of a pendant that the resident can wear to alert our staff that they need support. We also provide a wall mount alert system in the resident's restrooms that can be easily activated for support as needed. The pendant may be equipped with another innovative feature: the AutoAlert system. This is a fall detection feature that is designed to notify our staff automatically of a fall without the dependency of a resident needing to activate the alert. This fall-detection technology has been a critical tool in allowing our staff to quickly access our resident's condition if there is a fall and take appropriate steps to assist. Ask the community director to confirm they offer pendants for residents.
Medication Electronic Tracking System. Consistent medication compliance is one of the biggest concerns among families who move their parents to assisted living communities. Many elderly are not compliant with consistently taking their medication, putting them at increased risk for an adverse event. The staff at Aegis Living understands this and implemented an electronic tracking system that helps support medication delivery. The system is designed to enable a collaboration with the resident's health care provider, Aegis Living clinical team, and our pharmacy partner to schedule delivery and tracking dosages to help ensure the medication regimen is followed precisely. It supports better medication compliance, which means greater health outcomes and decreases manual errors.
The benefits of electronic medication systems have been proven to lead to better health outcomes. One study published in the journal Clinical and Translational Science looked into the effectiveness of such systems, surveying 105 clinicians who began using these systems to determine how it affected clinical processes. The surveys revealed that 71% of doctors believed that electronic medication management systems led to an improvement in patient safety. Additionally, 65% of doctors thought the new medication management system was more efficient than more traditional, manual methods.
CPR Training. In many U.S. states, social and health services departments do not require assisted living staff to be trained in cardiopulmonary resuscitation. In fact, communities often have a "no CPR" policy, which mandates that staff is not allowed to attempt to resuscitate residents but instead call for emergency services and stay by the senior's side. But at Aegis Living, staff are trained in CPR to ensure there is always someone on site who can perform CPR and best support the needs of residents in the case of unconsciousness caused by choking or another medical emergency.
Safety Committee. Safety measures are a top priority at Aegis Living, and the staff is always thinking of new ways to keep the residents happy, healthy, and secure. That's why Aegis Living has an active safety committee that meets monthly to review the communities' safety measures. These meetings provide an open and thought-provoking format for both line staff and management staff to share ideas, problem solve, and work to improve the measures taken to create a safe and secure sanctuary for our residents and staff.
Daily Meetings. In addition to the monthly safety committee meetings, daily meetings occur at each Aegis Living community in the form of stand-up sessions and a roster review of each senior. Our staff engages in informative discussions about the residents, identifying anyone who may need specialized attention, covering community activities for the day, and providing training on other essential topics. The goal is to ensure that the staff is doing everything to create a culture of collaborative engagement and safety and to empower the staff to support the mental, emotional, and physical wellbeing of the residents.
Education. Aegis Living believes in investing in the initial and on-going training for all staff. Training is incorporated into our day to day activity, supported by monthly training programs, and online orientation and continuing educational training using our online training platform.
Quality Assurance. Assisted living communities are regulated by each State. Aegis goes above any state requirements. We invite routine auditing in all of our communities, including inviting outside dietary consultants to review our culinary programs, reviewing compliance with all safe food handling and regulatory guidelines. We invite our contracted pharmacies to regularly audit our communities to review our medication administration program. Our dedicated Home Office clinical teams work side by side with our communities to routinely audit and train in our clinical practices. We have a Quality Assurance team dedicated to audit communities' critical compliance in all aspects of our operation. This process allows us to work with the communities to audit practices and provide guidance or training to our teams to resolve any concerns. Any concerns that are identified are tracked and monitored for reconciliation.
Keeping Seniors Safe from Natural Disasters
Our Aegis Living communities are located in Western Washington, California, and Las Vegas. Due to our locations, we have the potential for natural disasters to prepare for each year, including earthquakes, wildfires, and unpredictable snowfall. The safety of your loved one is our priority. Therefore, we are ready in case of an emergency.
What is the emergency plan when an evacuation is necessary, and what events start these procedures?
At Aegis Living, our staff follows a comprehensive emergency manual that identifies the process for emergency evacuations and relocation. We orient all new staff to our emergency and disaster processes and train the existing team quarterly.
Though we can never predict all circumstances, we have very clear protocols for safeguarding residents in case of fire, power outages, natural disasters, and other situations threatening our residents' safety. The General Manager or their proxy initiates specific services needed to ensure resident safety. Plans address vital needs like care and medication services, emergency food preparation and hydration, and addressing the specific needs of residents, including oxygen, hospice care, and dementia support.
The reasons that an evacuation would be necessary at an Aegis Living community:
Local authorities call for an evacuation

State licensing requires that we evacuate

The General Manager, in consultation with the Vice President of Operations, decides—out of an abundance of caution—that the residents must leave the community for safety or security reasons
How does the community communicate the emergency plan with the residents and their families?
We take a multi-channel approach to update families since we can't guarantee what platforms will be working in an emergency. Our comprehensive emergency communications strategy includes a text message program, email, and updates to our website and social media channels. These will keep families informed about new developments. 
As a regional provider, Aegis is able to quickly deploy additional resources in the event of an emergency.
A partial list of resources available at our communities to sustain residents in an emergency:
Emergency text system to alert family members, powers of attorney, and staff of community about the emergency and where they can find additional information.

Disaster kit, including lighting, batteries, specialized tools, and supplies to use when comforting and evacuating residents.

Evacuation chairs at each stairwell to safely move residents downstairs when the elevator is not to be used.

Satellite phone for when cell towers are down.

A comprehensive 72-hour self-reliance procedure booklet.

Evacuation plans, including transportation agreements to arrive at an alternative site for relocation to evacuation sites—both within Aegis Living and at local hotels.

Seven days of drinkable water.

Food to sustain residents up to seven days.
The health, safety, and protection of our residents is always our top priority. Whether your loved one has a personal emergency or health condition, a natural disaster occurs, or even a global crisis like the recent pandemic, Aegis Living is prepared. With over 25 years of experience, we have the resources, experience, and ability to quickly address these unique circumstances and keep our residents protected.
Tour an Aegis Living community near you to meet our staff and get your safety questions answered. We look forward to meeting your family.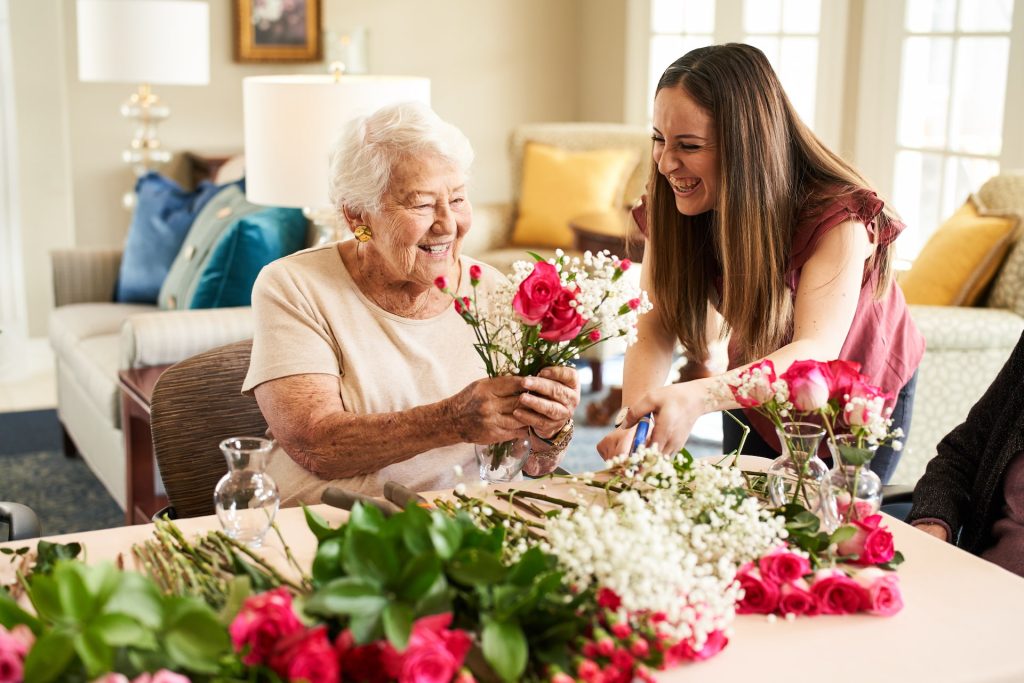 Next up
Making The Move
Change for anyone can be difficult. But imagine that you have lived in your family home for over 30 years. You've raised your children in the same neighborhood and retired there with your late spouse. It's a neighborhood where you know your mailman, butcher, florist, and neighbors by their first name. To downsize, sell a home, and decide what to keep is no small task. It can be daunting. And we never underestimate the stress and impact this has on a person moving into one of our assisted living communities.
Ready to Find Your Perfect Community?
See what Aegis Living has to offer near you! If you're feeling overwhelmed, just give us a call and we'll be happy to guide you.