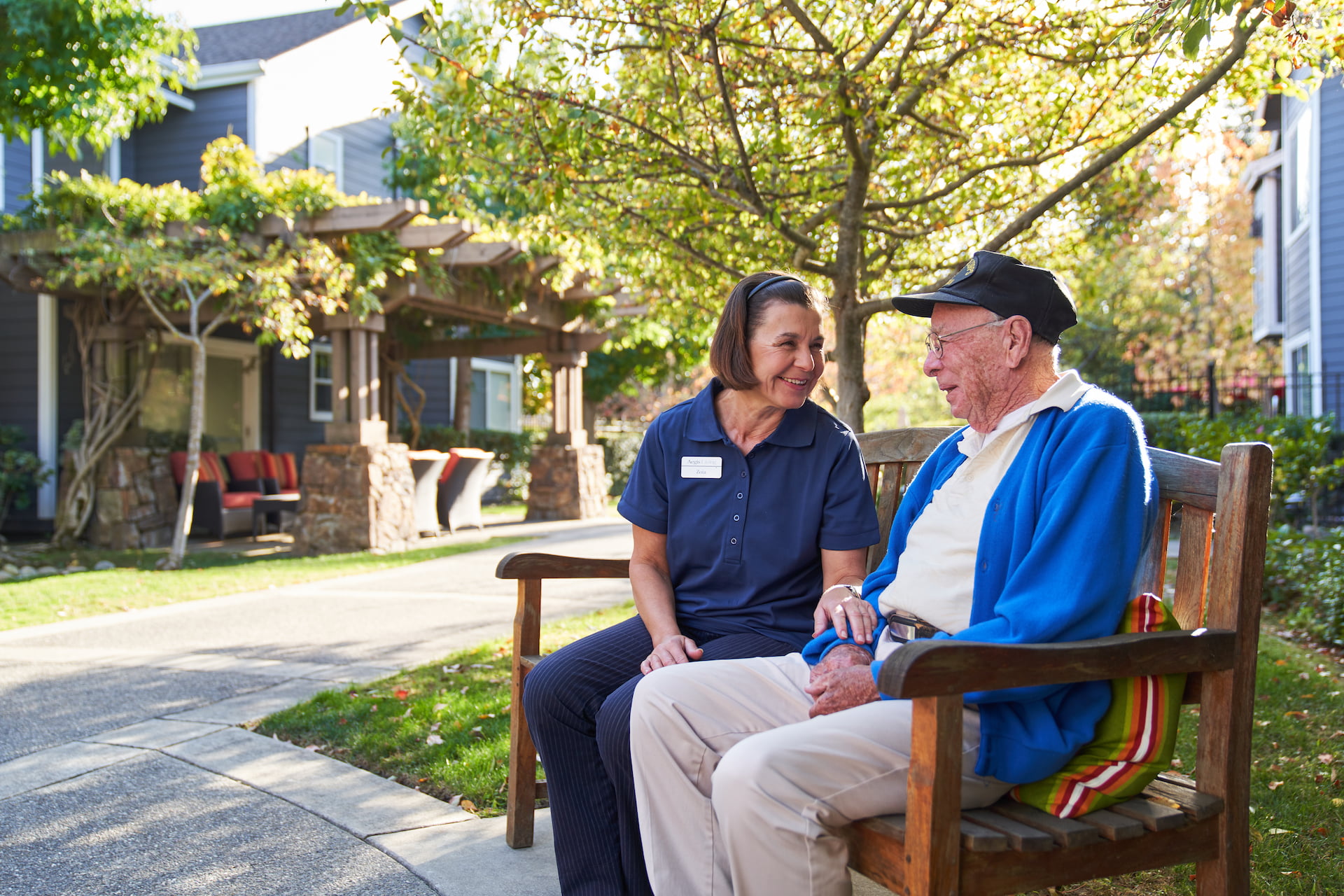 11 Tips for Helping Your Loved One Adjust to Assisted Living
With over two decades of experience working with thousands of residents and their families, Aegis Living has a few suggestions to start off on the right foot, so your loved one is happy and comfortable in their new home.
Let the Community Take the Lead. Making a new friend or two can positively affect your loved ones' attitude toward their new home. Every assisted living community faces this scenario with each new resident when they move in. The staff is skilled at making introductions and matching like-minded neighbors who may eventually become good friends. Caregivers will encourage and often go with new residents to activities. At Aegis Living, we take extra care with new residents during the transition. We get them out of their apartments and involved quickly. New residents never sit alone at meals, and we make an extra effort to introduce them to everyone and find connections.
Use the Whole Community. If you are visiting, encourage your loved one to show you around the community. It's best if your loved one understands quickly that their home includes more than just their apartment but also all shared common areas. At Aegis Living, we encourage new residents to explore the different rooms and amenities that the community has to offer—lounging by the fireplace in the living room, participating in a balance class in the fitness center, learning to paint in the craft room, enjoying a cup of coffee in the bistro, or reading a book in the library.
Get Involved in Activities. Every assisted living community has a full calendar of engaging activities, outings, celebrations, and exercise classes to keep residents engaged and active. These are easy ways for your loved one to meet other residents. At Aegis Living, our Life Enrichment Directors work hard to create special interest groups to encourage social interaction among our residents. They are keen to develop programs that spark the imagination or passions of our residents. Our Life Enrichment Directors love to learn about the interests of our residents and build programs that they will enjoy. Share your loved one's hobbies, interests, and passions with the Life Enrichment staff. They can suggest or cater programs to meet their interests.
Make New Friends at Mealtimes. Meals are a wonderful time of the day to meet neighbors and create new friendships. Encourage your loved one to eat their three meals each day in the dining room. Even if they are not especially hungry, they can get something small. It is an excellent opportunity to eat at different tables and meet other residents and staff. If your loved one is an introvert and shy, any staff member will help them find an open table and introduce them to those sitting at the table. Many friendships have been made over a lingering cup of coffee after a delicious meal at Aegis Living.
Make Their New Home Feel Like Home. Getting your loved one settled and feeling comfortable in their apartment will allow them free time to meet their neighbors. Also, by making their apartment feel homey, they adjust quicker and feel like part of the community. Decorate the home with keepsakes and familiar items to help ease their transition.
Allow Your Loved One Their Independence. If you are constantly hovering, how will they meet anyone? We know this transition can be difficult for you too. But you need to allow time and a little distance (just a little) to give them the push they might need to get involved, participate in activities, attend a movie, and find a table of new friends at dinner. The reason that you moved your loved one into an assisted living community is to get them the support and assistance they needed while celebrating the things they can do independently.
Set Your Boundaries. You may feel comfortable with the transition and giving your loved one some space to adjust. But they may not feel the same. If this is the case, you may need to set boundaries for yourself. Of course, you are not abandoning your loved one but giving them space and time to meet others and become comfortable with the staff. Try to set up a schedule of when your loved one can expect you to call.  This way, they won't wait by the phone in their apartment, or they don't call you constantly throughout the day. Set up a schedule of when you plan to visit and ask relatives to do the same. Take it day by day and be patient because this is a process, and it can take time.
Invite Friends and Family to Enjoy the Community. At Aegis Living, we take immense pride in creating comfortable, welcoming, and beautiful communities. We want our residents to share their home with friends and family members. Whether they are sitting by the fire in the living room, walking in the landscaped garden, or enjoying a cocktail in the lounge, your loved one will feel at home when surrounded by family. Our communities also provide private dining rooms that can be reserved for special occasions or family events. This is a terrific way to make your loved one feel at home when hosting a birthday or celebration like they would have done in their previous home. Hosting an event can help them feel more ownership in their new home and a sense of independence.
Visit Often. Plan to visit on a regular basis and feel free to explore the various spots throughout the community to share quality time together. Studies have shown that family contact is one of the strongest predictors of satisfaction and happiness for long-term care residents. Family involvement has been linked to lower mortality, less hospitalization, and earlier hospital discharge in a study of those living in long-term care.
Be Proactive & Ask for Help. An assisted living community will make every effort for your loved one to adjust to their new surroundings. If you are concerned that your loved one is not adapting well, contact the community general manager to see if changes can be made to make them more comfortable. At Aegis Living, our chefs will prepare a favorite family recipe to comfort a new resident. Our Life Enrichment team loves to add new favorite pastimes to their programs or play their favorite movie in the theater. These small treats can have a substantial impact on the happiness and comfort of a new resident settling into their new home.
Make Sure There Are No Health Issues. No one will react positively to a new living situation if they do not feel well. If your loved one is not adjusting well to the move, alert the care staff. The staff will make sure there are no issues of depression or underlying health concerns that might cause discomfort or pain. At Aegis Living, our Health Services Director will make sure that the staff pays close attention to any resident, but especially the physical and mental health of a new resident. They can monitor your loved one's health and treat appropriately if there is an issue.
Aegis Living knows how important a positive transition can benefit any new residents. Our entire staff participates in making every new resident feel comfortable and welcome. We offer many opportunities to interact with neighbors, meet new friends, pick up a hobby, learn something new, stay active, and mentally engaged in activities. We try to make the transition as smooth as possible. With family encouragement, support, and a little time, your loved one will ease into their new home successfully.
If your family is interested in an Aegis Living community, contact a community neary you. Our staff will be able to review the steps they take to move in and smoothly transition a resident into their new home.
Ready to Find Your Perfect Community?
See what Aegis Living has to offer near you! If you're feeling overwhelmed, just give us a call and we'll be happy to guide you.