Life Enrichment
Socialization is vital to the health and happiness of our residents. Our Life Enrichment team has developed innovative programming that is imaginative, unexpected, and engaging. Through these activities, residents get to know each other, and neighbors become friends. Far from cookie-cutter, our Life Enrichment directors customize their calendar of activities and create special interest groups that reflect the personalities and interests of the residents within their community. Whether that is fly-fishing for passionate anglers or laughter yoga for the young at heart, we are continually evaluating and creating new programs to engage our residents in meaningful ways and bring them joy.
Our residents look forward, several times throughout the year, to our Blue Moon series that captures the nostalgia of yesteryear in an elaborate themed party. Bringing all our communities in Washington together, these joy-filled events (and the weeks leading up to them) allow our residents to relive their younger years through music, dance, food, dress, and live performances. We have recreated the vibrancy of Woodstock, the youthful energy of a big-top circus, and the bravado of the Rat Pack to bring the joy of the past into the present.
Beyond these large events, every day brings a variety of unique activities and programs, including:
Tapping into our residents' creative side, they express themselves through interactive music therapy and art.
Lively discussions around hot topics or in response to a TED talk or sharing personal stories.
Igniting friendly competition with trivia, games, or brain teasers for mental calisthenics.
Staying active and fit with balance classes to reduce the risk of falls or exercise classes adapted for mobility, like chair tai chi or chair yoga. And residents can center themselves during guided mediation or deep breathing exercises.
Planned excursions and outings in the greater surrounding community.
Cooking classes in our demonstration kitchens by our talented chefs.
Multi-generational programming to mentor and connect with the next generation and volunteer opportunities.
Expert speaker series and friends and family events to share our community with others.
Specific memory care activities and programs catered to the cognitive level of our residents living in memory care.
Leveraging technology and exploring new innovations to engage our residents and connect them to the world. We use Alexa in our communities to bring an immediacy of information to discussions or Virtual Reality to travel the world from the comfort of our community.
Family Link
In addition to the life enriching activities available to residents, we have developed a proprietary program called Family Link. This tool, and soon to be app, allows family members to know how their loved one fills their day. We use technology to share a window into the variety of activities, program participation levels, and social time spent because we understand that staying connected is important. With socialization critical to mental and physical health, this tool helps us ensure that your loved one is happy, healthy, and adapting to their new home.
Care and Support Services
The care and attention that our staff devotes to our residents are as unique as they are. From unconventional activities to nutritional rotating menus and customized care plans, we offer one-of-a-kind care based on the individual needs, interests, comforts, and preferences of our residents. This type of personalized care takes dedication to deliver precisely what they need, when they need it, and correctly evaluating when their needs change. It also means providing your loved one with familiar comforts that will make them feel part of the community and well cared for. Aegis Living doesn't offer a cookie-cutter approach to care. Rather, our staff assesses the needs of each person—both physically and emotionally—and creates a care plan to support and engage them.
If your loved one needs memory care, we have developed an innovative care program for residents with Alzheimer's and other forms of dementia to meet their unique needs. Our Life's Neighborhood™ program is designed to help ease the symptoms of memory loss and celebrate the life of the individual. Our dedicated memory care communities are secured for your peace of mind and offer a more intimate setting to care for your loved one. With over two decades of experience, we have created programming that comforts during moments of confusion, sparks joy throughout the day, and helps each resident adjust to the changes they are experiencing.
Our Compassionate Nursing Staff
For our nurses, being employed at an assisted living community is different than working at a clinic or in a hospital. Our staff forms tight bonds with the residents and their families while caring for them in their community home. Many of our nurses compare caring for our residents to caring for a member of their own family.
Each Aegis Living community employs a nurse on staff who oversees the care plans for each resident and customizes care plans to meet their individual needs.
Every shift is covered by an on-staff nurse, whether they are in the building or on-call, including throughout the night.
Nurses engage with residents throughout the day during meals, activities, exercise, and in their apartment. They know our residents intimately.
Our nurses use their medical expertise to communicate and share any

concerns

about

a resident's health

with their primary care physician.
Our nurses serve as the point person for family members to discuss changes or questions about a resident's health and care plans.
The nursing staff teaches and coaches our residents to help them adapt to their changing needs.
Our nursing staff proactively care for our residents and notice changes in their condition quickly.
The nurses set the standard of care within each community and are responsible for maintaining this high level of healthcare.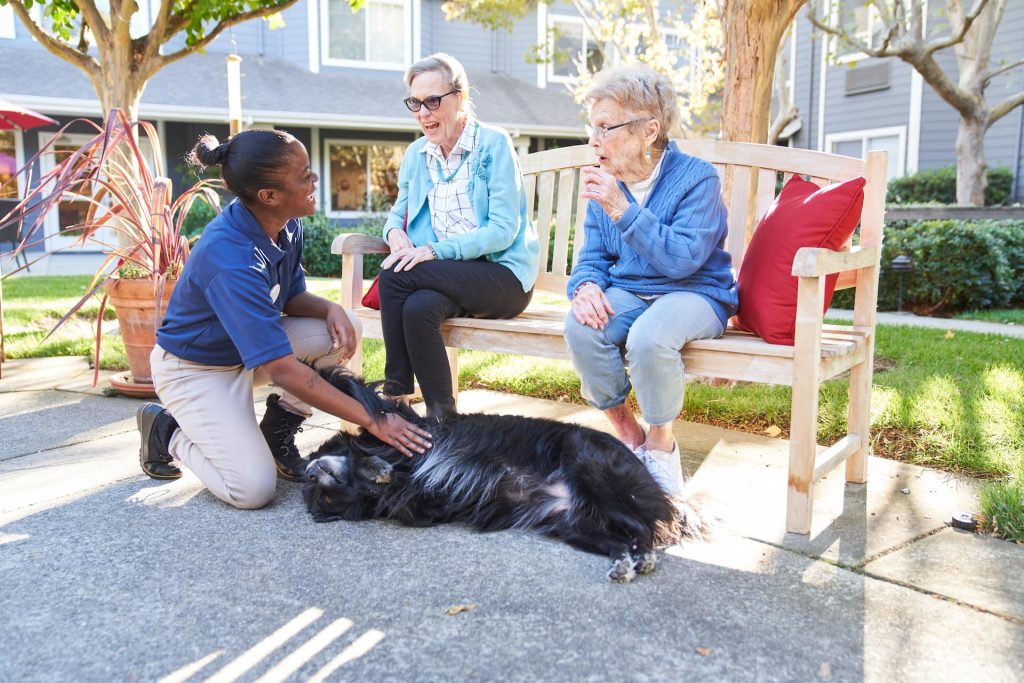 24-Hour Staff
Aegis Living strives to deliver the best quality geriatric care to every resident. We know that the heart of our business is the dedicated staff who lovingly care for your loved one and other residents every day in our communities. Aegis Living has worked hard at nurturing and refining an employee-centric company culture. Happy employees will, in turn, make for happy residents.
Our staff is available around-the-clock to assist with the healthcare needs, activities of daily living, and comfort of your parent.
Our staff is trained with ongoing education in dementia care and skilled at redirecting difficult behaviors or agitation associated with memory loss.
To provide a consistency of care to our residents, Aegis Living actively recruits and retains the best staff in a variety of creative and effective ways.
Aegis Living has innovative employee programs to reward our staff members for their countless hours of hard work and dedication.
Aegis Living is among the top-rated companies on Glassdoor.com, a global employer review website based on our current and previous employees' anonymous reviews. We are honored to be ranked as the #1 senior living company on Glassdoor.com by the overwhelmingly positive reviews from our staff.
Other Care Services
Aegis Living communities partner with local service providers to meet the unique needs of our aging population. The convenience of using an in-house medical care provider allows your loved one or parent to receive compassionate care within the comfort of their apartment. These medical professionals may include:
Same-day assessments and move-ins seven days per week (in determining and monitoring staffing levels, Aegis Living considers resident assessments and other factors)
In-house primary care doctors
Physical and occupation therapists
Podiatrists
Geriatric psychiatrists
Two person transfers/lifts
Preferred pharmacy programs
Blood work, labs, and x-rays scheduled as an outpatient
Delicious Dining
At our Aegis Living communities, our residents look forward to every meal. Mealtime is where they enjoy made-from-scratch meals and comfort foods in the company of neighbors and good friends. Our residents enjoy three meals each day, specially prepared by our talented team of chefs. Our Enterprise Culinary Services Director is a Registered Dietician Nutritionist and works with the culinary artists to come up with seasonal menus that are not only pleasing and delicious but also provide our residents with the vitamins and nutrients they need to stay active and healthy.
Our restaurant-quality dining options change often, giving residents variety and exposing them to exciting new foods on a regular basis. Our exquisitely decorated dining rooms promote socialization among residents. Family and friends are always welcome to join their loved one for a meal. Snacks and hydration stations are available throughout the day as well, and Aegis can also provide specialized meal plans to meet the needs of those with medical conditions, food allergies, and dietary needs.
"We focus on farm to table, sourcing seasonal ingredients for the highest quality nutrition and taste at every meal," says Ashleigh Pedersen, Enterprise Culinary Services Director. "We know the power of food to comfort, to make someone happy, and even evoke a memory. We get great satisfaction bringing joy to our residents through our food."
Luxurious Amenities
Who would expect to find a trendy juice bar in an assisted living community? Not only is this an unexpected idea, but we serve fresh, nutrient-dense juices and smoothies packed with vitamins to boost our residents' immune systems and keep them properly hydrated.
Every property in the Aegis Living portfolio is unique in its style and design. But the one thing that each property has in common is the elegant decor and senior-friendly furnishings that make it feel like home. Our attention to detail and design aesthetics when creating each community is not only for our residents' comfort but also for creating a place of pride. Our warm and elegant interiors provide a welcoming place to share with friends and family.
"These comfortable surroundings help to ease the transition for many of our residents," shares John Carpentier, Executive Vice President of Operations. "They feel immediately at home and comfortable when they move in."
Our communities are purpose-built to offer opportunities for residents to pursue their passions. Whether that is exploring artistic pursuits in our fully-stocked craft rooms, participating in our music programs, working out with a health instructor, or learning a new cooking skill in our demonstration kitchen, each community offers areas to meet our residents' various interests and hobbies.
Our communities offer well-appointed private apartments, but residents typically spend most of their day in the elegant shared areas with their new neighbors and friends. And life is more comfortable with these amenities, depending on location, including:
Concierge services to help answer your questions and arrange services for a loved one
Housekeeping on a weekly basis
Scheduled transportation to doctor's appointments or to run errands
Private furnished and unfurnished apartments
Elegant shared common areas for meeting with family, friends, and neighbors
Chef-prepared meals that cater to our residents' dietary needs and deliver a seasonally rotating menu of tasty meals
Spa services, including a massage room, barbershop, hair and nail salon
Fitness center
Sports den
Fresh juice bar
Cocktail lounge
Library
Arts, crafts, and music room
Swimming pool (limited locations)
Bistro or gastropub
State-of-the-art movie theater
Biophilia wall to bring the outdoors in to enjoy the health benefits of being close to nature
Secured memory care wing with landscaped courtyard gardens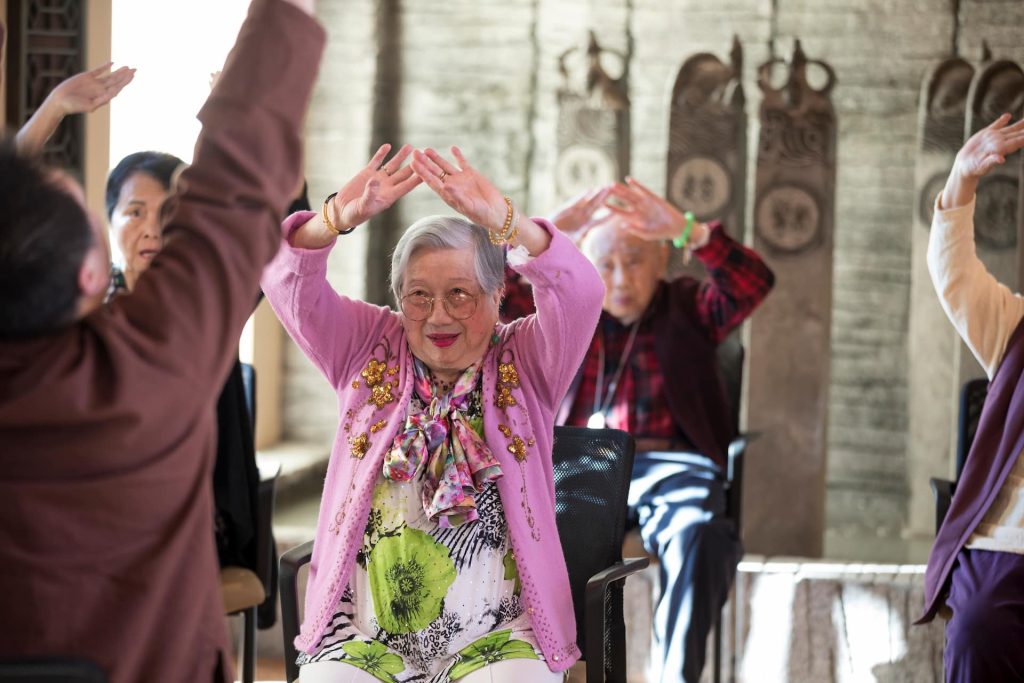 Reliable Transportation.
Many of our residents no longer have a car or drive, so we offer private bus or town car transportation to help them get where they need to go. Our experienced, trustworthy drivers help our residents run an errand, meet up with friends and family, or accompany them on a visit to the doctor's office. Transportation is one less worry for those who live at Aegis Living.
Pet-Friendly Living. At all Aegis Living communities, residents are welcome to bring their furry friends to share their new home. Birds, cats, dogs, and even fish can provide seniors with a special kind of comfort, and these companions can be of great benefit to people with Alzheimer's or other forms of dementia. Pets can help ease the symptoms of apathy, depression, reclusion, and loneliness associated with dementia.
Movie Theater. Our residents find entertainment at our in-house movie theaters with state-of-the-art sound systems and comfortable seating. A variety of films are shown, many of which cater to this generation. For example, residents might be intrigued by a World War II documentary one week, then enjoy a classic Humphrey Bogart flick the following week. And we'll pop the popcorn.
Beauty Services. Everyone wants to look their best, no matter their age. Our residents can get a cut and shave in our classic barbershop or enjoy a full beauty salon that includes hair, nail, and facial services. This is just one way we make our residents feel pampered and cared for. On a regular schedule, massage therapists come to our communities for scheduled sessions. Gentle massage is beneficial for seniors to reduce stress, lower anxiety, and alleviate physical pain.
Specially Designed Common Areas. Our communities are designed to be welcoming, warm spaces for residents and visitors. Residents are encouraged to spend the day outside of their beautiful, private apartments and join others in the communal spaces. The dining room, lobby, and activity areas are wide-open spaces that are ideal for chatting with friends, meeting new people, and simply enjoying a coffee with the morning paper. There are also protected outdoor areas where seniors can enjoy the fresh air or step outside into our flowering gardens, sunny courtyards, and delightful paths for an afternoon stroll.
Aegis Provides a New Home for Seniors Through Exceptional Care
Moving your loved one to an assisted living or memory care community is not without its challenges. As experts in the industry, we are here at every step of the process to make this transition as smooth as possible. Our staff treats our residents like they are a member of their own family. And your family can rest assured knowing your loved one is well cared for and safe in their new home.
When your loved one moves to an Aegis Living community, the effect on your relationship will be the single most significant change. The stress and worry associated with caring for an elderly loved one can strain your relationship, and traditional roles may reverse. An adult child or a spouse may start to feel more like the parent. Once your loved one has moved into Aegis Living, you are able to focus again on your relationship. Your loved one will be treated with dignity and compassion by our trained caregivers. Your loved one will have the support they need, and you can have your relationship back to love and cherish.
If your family is looking for an assisted living or memory care community for a parent or loved one, contact an Aegis Living community near you to schedule a tour. While you are here, participate in an activity, enjoy a meal, and meet our residents and staff, we look forward to showing your family what sets us apart.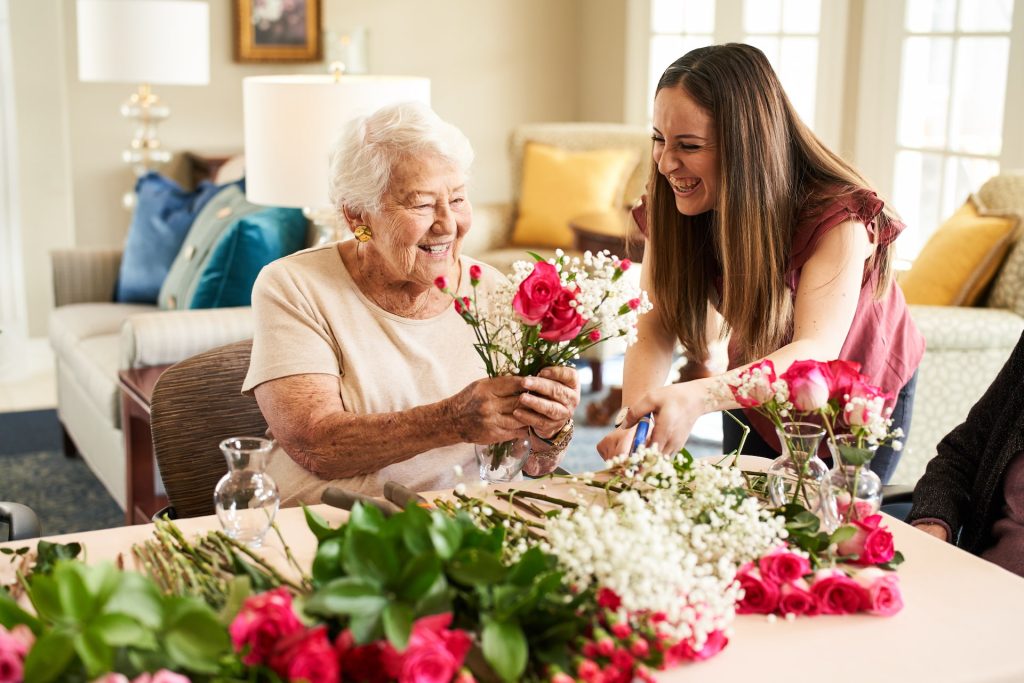 Next up
Making The Move
Change for anyone can be difficult. But imagine that you have lived in your family home for over 30 years. You've raised your children in the same neighborhood and retired there with your late spouse. It's a neighborhood where you know your mailman, butcher, florist, and neighbors by their first name. To downsize, sell a home, and decide what to keep is no small task. It can be daunting. And we never underestimate the stress and impact this has on a person moving into one of our assisted living communities.
Ready to Find Your Perfect Community?
See what Aegis Living has to offer near you! If you're feeling overwhelmed, just give us a call and we'll be happy to guide you.