How to Successfully Make the Transition
At Aegis Living, we have over two decades of experience to draw from, moving thousands of residents into our communities. We know this transition may not always be easy, but we have several helpful tips to help your family move your loved one into an assisted living or memory care community smoothly.
Shop for a Community Together. If possible, involve your loved one in the selection of an assisted living community. Keep them focused on the future and the excitement of new friends, a new home, and an opportunity to relax from the stresses of homeownership. The more they take part in the choice of their new home, the more comfortable they will be with the decision.
Hire Resources to Help. Invest in a moving company to help with the details and stress of moving, so you can focus on the emotional needs. Find a moving company that specializes in this type of move. Or hire a professional organizer who can help your family with decluttering and downsizing their home to take only what will fit into the new space.
Give It Time. Keep a positive attitude and use encouraging language when you are together. Staying upbeat may be hard for you, and it's difficult to hear that your parent is unhappy. But if they can no longer live on their own, this is the best solution to keep them healthy, safe, and in the company of others. Give them some time to adjust and know that you are doing the right thing. Patience is key.
Visit Often. Studies have shown that family contact is one of the strongest predictors of satisfaction and happiness for seniors in assisted living communities. Family involvement has been linked to lower mortality, less hospitalization, and earlier hospital discharge in a study of those living in long-term care.
Finding New Friends. Staff will be particularly careful to introduce a new resident to other residents who they think are like-minded. They ensure that they do not sit alone at meals. Our staff is diligent in making sure residents are up in the morning, groomed, and ready for breakfast with a table to sit at. We know that making a new friend can positively impact their attitude toward a community.
Engage in Activities. At Aegis Living, our Life Enrichment directors play a key role in encouraging new residents to attend activities. Walking into a room of unfamiliar faces can be intimidating, often caregivers will accompany new residents to activities to help them find their way around the community. Not everyone is a social butterfly, but everyone wants to feel welcome and included. Activities are a terrific way for new residents to meet their neighbors in a comfortable setting and get involved in hobbies, art, games, or exercise that they are interested in. Activities are also helpful to set up a daily routine.
Keep Familiar Objects. Surround your loved one with familiar and comforting objects in their new home. Respect and honor their past with family photos and their most prized treasures. Think about the design of their new home and how you will decorate their assisted living or memory care apartment to make them comfortable.
Take Photos to Remember. If your loved one or parent is moving from a family home, your family members may be attached to the house and feeling sentimental about the move too. Take pictures of their old home to remind them what it looks like. Pose for a group photo on the front steps and frame it for their new apartment, and keep one for yourself.
Health Issues or Depression. Anyone might react negatively to a new situation if they don't feel well or are in pain. At Aegis Living, our health services directors monitor the health and well-being of all our residents carefully. If a new resident is not adjusting well to the move, they will make sure there isn't any underlying health issue or depression that might be causing them discomfort. We will make sure that they get extra staff attention, feel supported, and health issues are treated appropriately.
Keep Some Things the Same. There are many opportunities to keep some things the same in their lives. For example, while at Aegis Living, your loved one can keep the same doctor. Many Aegis Living communities offer a visiting medical provider for convenience, but they are welcome to keep a physician familiar with them. We provide transportation to and from appointments. Also, the community is their home. They are welcome to have visitors—lunch with old friends, play dates with the grandchildren, or dinner with their children. Familiar plans, tasks, and company can help them better adjust to their new surroundings.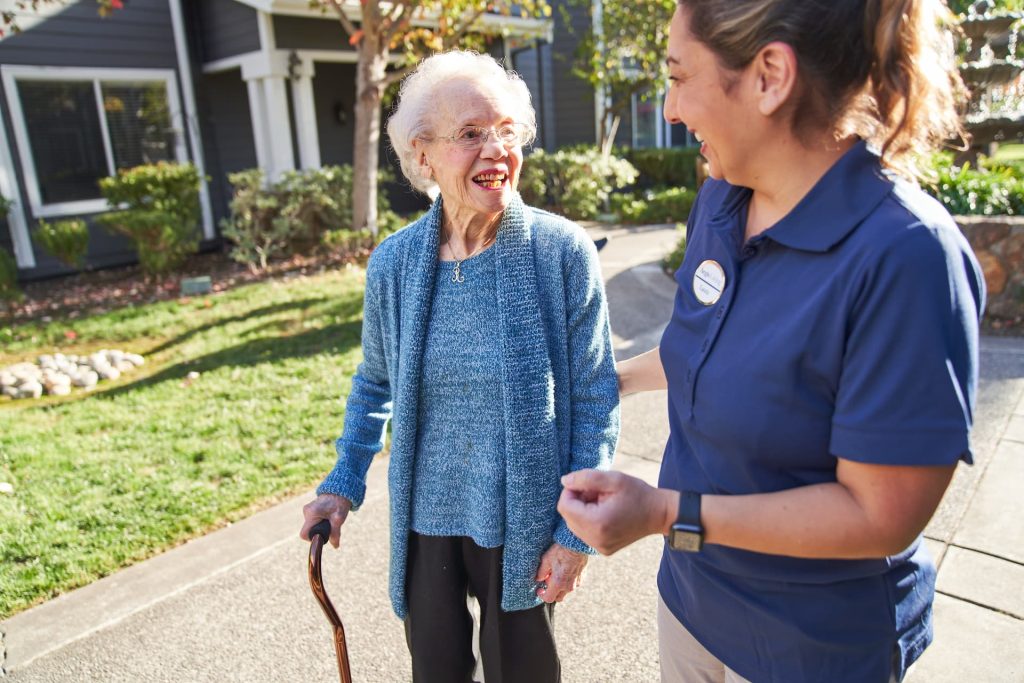 The progression of issues such as dementia, Alzheimer's, or arthritis may limit a person's ability to live independently, requiring the need for assistance with the activities of daily living (ADLs). In some cases, families may choose to care for their loved one in their home, but at some point, their loved one may require professional care that only an assisted living or memory care community can provide.
Susan and her sister, Julie—acting primary caregiver for their father—decided their dad needed more help than Julie could provide alone.
"The job of attending to Dad's needs were becoming too great for her, and we decided to move him from Idaho to Redmond where I live," Susan said in an email interview. "The closest assisted living facility would be a 45-minute drive one way for my sister, and it just made sense to have him 3 miles from me rather than 50 miles from her. Besides, it is such a privilege for me to be able to see him most days and just visit."
Initially, their father was apprehensive about the move. However, their dad's doctor discussed the move with him after seeing pictures of Aegis Living and told their father that this was the best course of action. The physician recommended that he no longer drive and said he needed daily care due to his food issues.
Susan's father can no longer eat whole foods, but the staff at Aegis Living has done a wonderful job making sure that his meals are tasty–just the way he likes them. Her father continually tells her how much he enjoys his pureed meals, which is certainly a compliment coming from a real foodie.
"He has no complaints with the food which has made his transition even better," Susan said. "He has even put weight back on since he was unable to keep food down. Dad cannot live on his own, and this facility has done an amazing job of welcoming Dad to his new way of life."
When it was time to make a choice, Susan chose Aegis Living because it was conveniently located near her home, and it provided the individualized attention her father needed, especially during those first few transition months.
"Everything done at this facility has shown my Dad and our family that it is so high class, and the entire staff wants the best for their residents," Susan said.
Since the move, she noted that her father has been very happy residing at Aegis Living. In fact, since his move, her dad has seen improvements in his health. She said that he is better about remembering current experiences, and that being around the people and receiving proper nutrition has had a positive effect on his health. Additionally, the feeling of being at home allows the residents to relax here because they are comfortable.
"Aegis Living gives a homey feeling to anyone walking in," she said. "Yes, it is an assisted living facility, but every aspect of the community is high class, giving the feeling of home to its residents and visitors."
At Aegis Living, we want to make this transition for you and your loved one as smooth as possible. Visit one of our communities to take a tour, meet our staff, and learn how we can improve your loved one's quality of life. We are happy to introduce you to our residents and show you all an Aegis Living community has to offer.
Ready to Find Your Perfect Community?
See what Aegis Living has to offer near you! If you're feeling overwhelmed, just give us a call and we'll be happy to guide you.