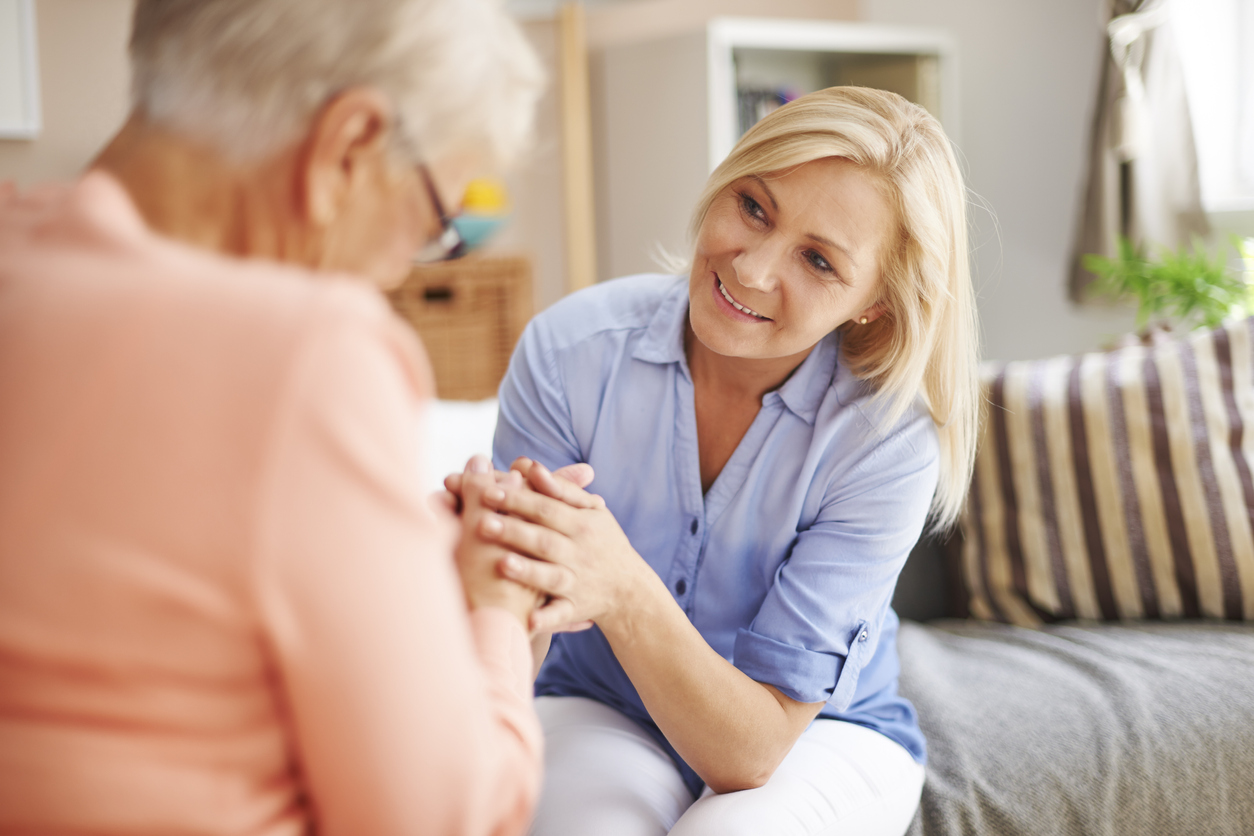 Recognize What Guilt Looks Like
Feelings of guilt can be complicated. Most often, the question about long-term care for your elderly parent does not have a black and white answer. Therefore, you may experience layers of emotions that ebb and flow as you research care options and confront changes in your loved one's ability to live on their own. Recognizing what guilt looks like for you is the first step to coping with your senior care decision:
Feelings of guilt can manifest in bouts of anger and frustration, causing you to lose your temper.
Your feelings of guilt can turn into resentment so you might complain more, become defensive, or even accusatory.
You might feel forced to make a decision, or you might ignore and procrastinate deciding.
You may become overprotective and feel the need to visit too much; or you don't visit at all to avoid the guilt.
You also may experience a nagging feeling of not doing enough—for anyone.
This combination of emotions may leave you feeling out of control and anxious. These complex feelings are normal, and you are not alone. The key is not to allow your guilt to consume you.
How to Cope with Feelings of Guilt
The first step is to acknowledge and accept that your loved one's illness or age-related decline is not your fault. Despite your best intentions, their health is not something that you can control, and changes in their health or abilities will occur. It will benefit you to release the feelings that you are responsible. You have done your best. But at some point, professional care is necessary for the safety and comfort of your loved one.
Try to focus on the positive. Experienced and qualified caregivers will be there to assist your parent around-the-clock, keeping them safe and engaged. Your parent will be social, surrounded by other residents, and making new friends. You can look at this as an opportunity to regain your child-parent relationship when you let go of the role of primary caregiver.  You can better enjoy your time together when you release the responsibilities of daily care and the strains as sole caregiver.
Find New Ways to Show Care
If you have been responsible for the health and safety of your parent, it can be hard to let go and allow someone else to take over these duties. Remind yourself that placing your parent in the hands of trained and compassionate professionals isn't a form of giving up. It's a different way of caring for your parent. You can fight feelings of guilt by contributing to the health and happiness of your parent in a different manner, such as bringing them the morning newspaper each day, stopping by for dinner, or calling to say goodnight each evening. You can also maintain an active role in your parent's healthcare by keeping open lines of communication with his or her care staff.
Visit an Assisted Living Community
Concern over the level of care a parent will receive can be a significant source of guilt, so take the time to get to know the community where your parent will be living. Our Aegis Living communities offer tailored programs for our residents to nurture their physical, emotional, and mental health, along with services catered to those with Alzheimer's or other forms of dementia. Take a tour of the community to meet residents and experience our programs and services first-hand. Schedule a tour at various times of the day or drop-in for a tour to get a sense of the community when you aren't expected. Find comfort in researching and getting to know a community that you can feel confident will provide the best care for your loved one.
Help Your Parent Feel at Home
Another positive way to focus your feelings of guilt is to channel that energy into making them feel at home in their new assisted living or memory care community. Decorate their new apartment with items that they cherish and things that make them feel comfortable—their favorite art pieces, sports memorabilia, cozy throw blankets, preferred mug, bedding in their favorite colors, or comfy robe and slippers. Surround them with photos of family and loved ones that will make them smile. This is their home, and it should reflect their taste and personality.
Be Communicative
Open the lines of communication and visit your loved one frequently in their new home to help alleviate feelings of guilt. Often a parent or loved one doesn't want to be a burden to you. But this is a significant life change, and you may need to ask lots of questions to determine how they are adjusting and if they feel comfortable and happy. If they are complaining, try to solve any issues that you can and discuss concerns with their care staff. Are they too cold sleeping at night? Would the chef be able to cook a favorite comforting meal?  Are they missing their favorite afternoon TV show? Are they intimidated to try an activity? Little modifications and encouragement can bring great comfort when transitioning to a new community. Guilt can get in the way of asking how they feel and how they are doing. But you might find out something useful that you can help change to make them feel more at home.
Give Yourself Time
Release your feelings of guilt that can cloud your better judgment. You are not the cause of your parent's health issues, frailty, or lack of mobility. You are problem-solving and making the best decision for your family based on the facts of their current situation. Never feel guilty about that!
If you are looking for long-term care for your loved one, reach out to your local Aegis Living community. Our helpful staff can answer any questions that you might have, provide you with a tour of the community, and help you and your family navigate the decisions of long-term senior care.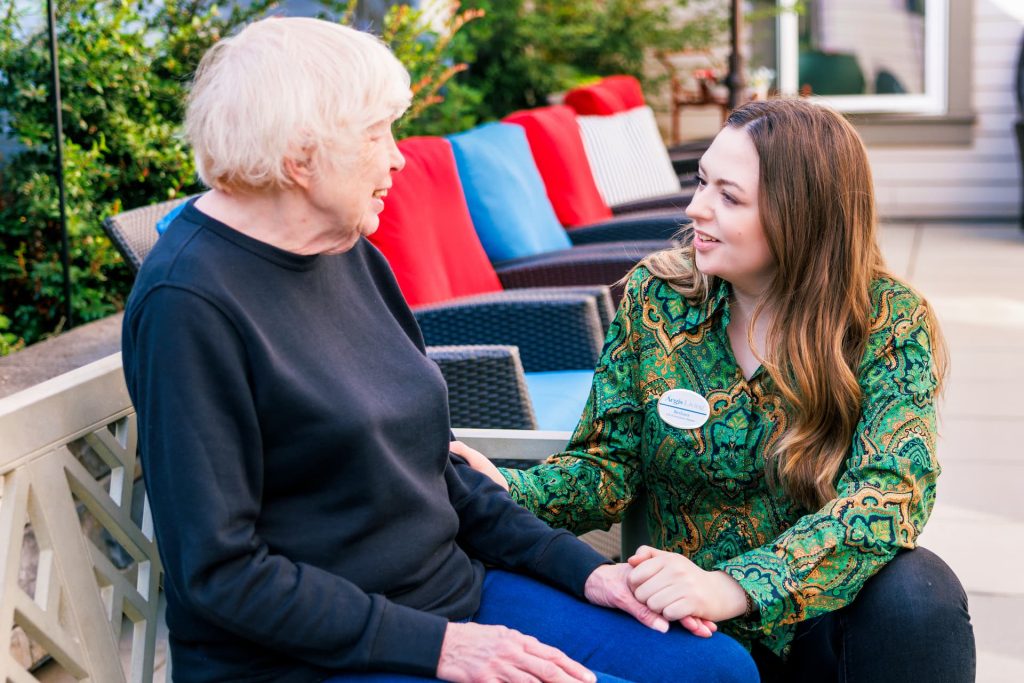 Next up
FINANCIAL CONSIDERATIONS
Has your parent recently been hospitalized and needs a place to recover? Do they seem lonely and withdrawn living in a house by themselves? Or is your family feeling that your parent's physical or mental health is declining, and they are not safe living alone? Whatever the reason or concern, your family is now facing the need for long-term care for your parent. The beginning of this process may be overwhelming. But if we break it down into parts, you can tackle each aspect and better educate yourself quickly to find the best solution for your parent. Let's start with the financial considerations when looking for senior care, specifically assisted living and memory care.
Ready to Find Your Perfect Community?
See what Aegis Living has to offer near you! If you're feeling overwhelmed, just give us a call and we'll be happy to guide you.