Understand the Different Types of Care
When considering senior care options for your parent, it's essential to carefully consider what types of services they may need as they age. And once your parent has moved, your family doesn't want to move them again. If your parent has issues with memory loss, illness, or frailty, your family may want to research options where they are able to age in place, and services can be increased as needed. As an advocate for their health needs, make sure to ask questions about the levels of care each community is able to offer and how that transition could be made smoothly.
Independent Living. A housing community for seniors who can manage their healthcare needs themselves or with assistance from family members or a private caregiver. Most are private apartments with a small kitchenette and offer meal plans, housekeeping, activities, and transportation.
Assisted Living. An assisted living community offers levels of care and supportive services for seniors who are no longer safe or healthy living on their own. This communal setting provides meals, activities, around-the-clock care, personal assistance, medication management, laundry services, housekeeping, and social interaction throughout the day, while seniors live in private apartments and share common areas.
Memory Care. Memory care communities are designed specifically for those diagnosed with Alzheimer's or other forms of dementia. These secured wings in an assisted living community, or stand-alone communities, offer services and structure by trained caregivers who can accommodate the individual needs and behavioral changes of residents diagnosed with memory loss.
Respite Care. Respite care is a short-term stay at an assisted living community. Often ranging from a couple weeks to a month, this type of care offers supervised care in a secure environment and can assist guests with activities of daily living (ADLs) or within a memory care community. This option is needed if a caregiver is traveling, senior is rehabilitating post-hospital or in case of an emergency. Guests will stay in a furnished, private apartment and be able to enjoy the services, activities, and amenities offered at a community. Respite care can also be an excellent option to help with the transition from home to assisted living.
Skilled Nursing Facility. A skilled nursing facility, or nursing home, offers 24-hour care from registered nurses and doctors for patients who need frequent or constant medical care due to a terminal illness, post-acute care, or rehabilitation. Often patients will recuperate in a skilled nursing facility after a hospitalization before they are well enough to transition to home or an assisted living community. The difference between skilled nursing and an assisted living community, like Aegis Living, is the required medical attention with doctor's supervision and that it's typically a short-term solution.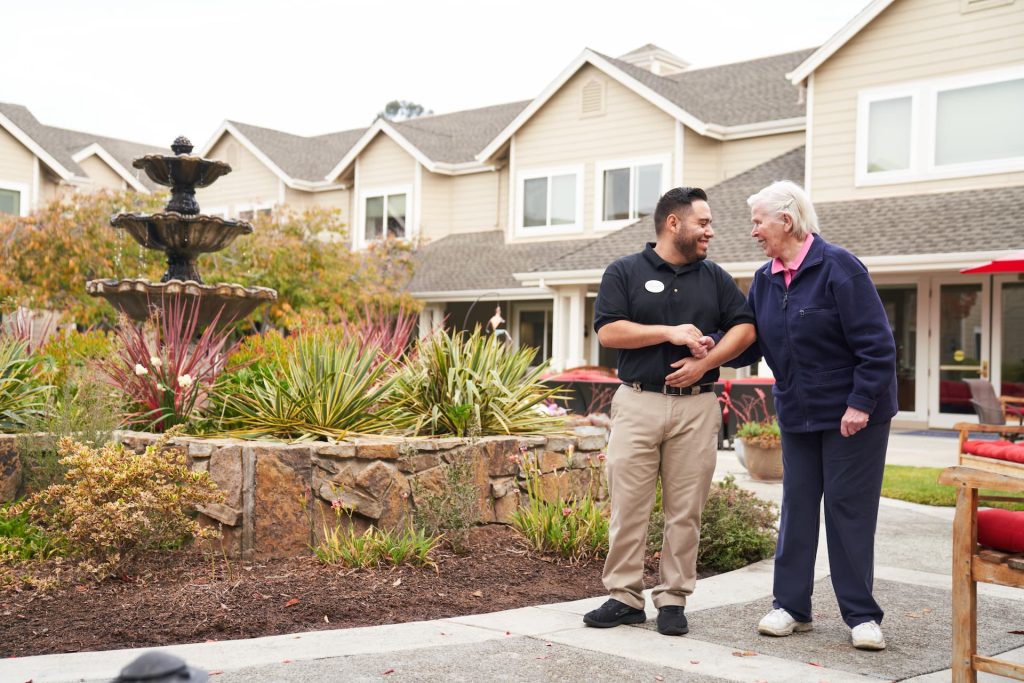 To meet the needs of today's retirees, the senior housing industry is preparing for a greater diversity of lifestyles, ethnicities, religions, and backgrounds. Every senior housing option should be inclusive and welcoming to all seniors. But we encourage you to shop around for a community that is comfortable for your parent. Don't be afraid to ask questions about cultural sensitivity, dietary restrictions, and specific diets due to religious beliefs.
Some senior housing companies are creating affinity senior living communities—niche communities that cater to specific groups. LGBTQ communities offer welcoming senior housing homes and communities that are discrimination-free and supportive. Immigrant families are finding assisted living and memory care communities that cater to specific cultures, such as Asian or Indian, or faith-based communities. These culturally authentic communities offer curated interior décor, traditional cuisine, familiar activities, and multilingual care staff ensures that residents are clearly understood and able to express their needs. These carefully selected details, from the food to the décor and dress, give residents a sense of belonging.
Other lifestyle needs may be smaller, but just as important. Some people feel that a house isn't a home without a beloved pet. If your parent has a pet that they cherish, make sure they can stay together in their new home. Or look for a community with a lovable house pet to share.
Perhaps your parent is an avid gardener, movie buff, foodie, bridge player, voracious reader, or exercise enthusiast, these hobbies and interests can be met by communities if you ask the right questions. Do they have a private movie theater, exercise room, book club, or garden? And what kind of access or involvement can they have in these hobbies while living in the community? Find a community that encourages them to continue to do what they love most.
Whatever their interest, background, ethnicity, or lifestyle, everyone wants to feel like they belong. Maintaining their lifestyle, with some assistance, can help your parent thrive in a new home.
Whether your loved one stays in the neighborhood where they have lived for the past 40+ years, or they are moving to a new state to be closer to family, finding the perfect location is an important factor. If a community is nowhere near your normal routine or convenient for you or your siblings, it may be more difficult to visit regularly. Consider your entire family and where they live and work before determining the best community location.
Once you have selected the city or neighborhood, you can start to research for an assisted living community. The first and most convenient place to start is searching on the internet. Researching online first allows you to review a company to determine their care philosophy, culture, and background. You can request marketing materials, schedule a tour, and check their reviews. The internet is also a good place to start to determine the number of communities near your search area and how they differ from each other.
Another great referral is to ask friends and family whom you trust and live in the area. Their personal experience can be invaluable. Send an email or post a message to friends. You may be surprised by the responses that you receive with either recommendations or helpful tips based on their experience.
Also, there are referral services for assisted living communities that can help narrow your selection based on your personal and location criteria. Typically, these services are free to the family, but they will pass along your personal information to the assisted living communities. Often these communities will contact you quickly. So, if you are making a casual inquiry or not ready to move yet, a referral service may not be the recommended first step in your search.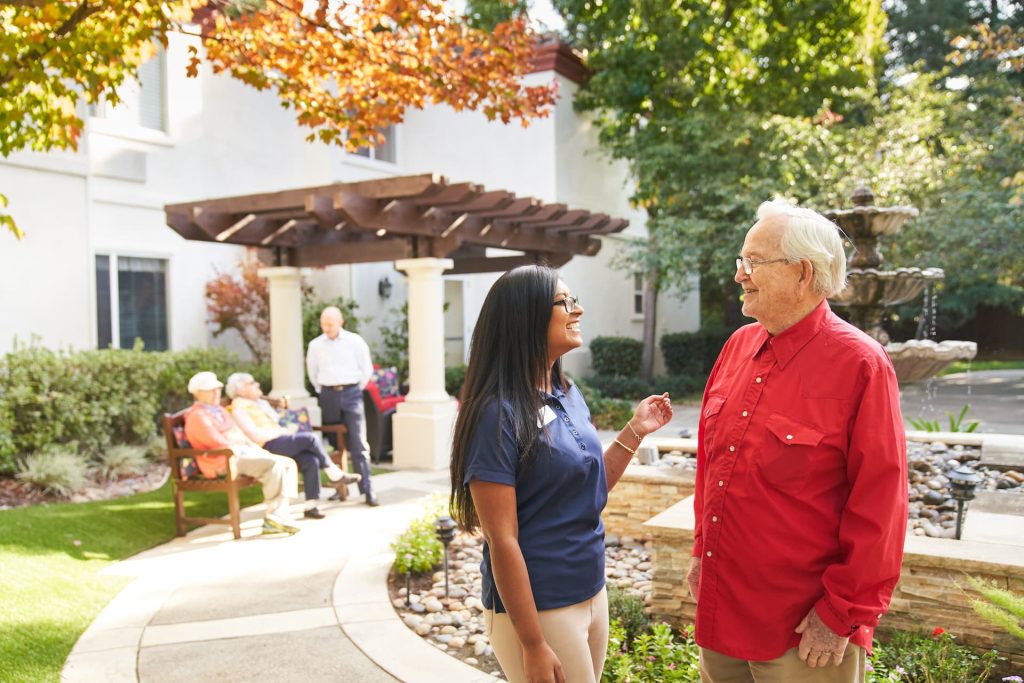 Touring a community is a critical step that should not be skipped. If you do not live in the same city as your parent, make every effort to schedule a trip to tour communities with your parent, or perhaps find a trusted friend or family member who may be able to assist you in this process. Finding the right place for your parent or loved one will take some time and patience to find the best fit.
Touring a community allows you to see firsthand how the staff and residents interact. You can taste the food, meet the care managers, meet other family members, see the activities and activity schedule, and experience the atmosphere and energy of a community for yourself. Depending on how your parent is feeling about the move or if they can assist in the decision-making process, getting them involved in the choice will help them feel more comfortable.
We suggest that you first make a scheduled visit with a staff person at the community. But as you narrow your choices and get closer to a final decision, make an unplanned visit. This way, you can see how the community runs naturally. We also suggest that you visit a community at various times of the day. If the menu is a priority, mealtime is a good time to visit and taste the cuisine. You may want to stop by after work and meet other families. Or consider visiting in the morning to see if residents are up and dressed. Visiting later in the evening allows you to observe the community during a quieter time.
Selecting the right community is a process. Use every step in the journey to ask questions and dig a little deeper to understand the culture of the community. Whether this is during your initial email inquiries, in person on a tour, or as a follow-up, don't be afraid to ask questions. You are learning what each community offers, comparing them with each other, and deciding what is most valuable to your parent. And this industry may be new to you and your family, so along the way, you are learning unfamiliar terms and lingo as well to inform your decisions. To help your family, we have some helpful questions to ask to narrow your search.
Meet the Senior Living Staff
It's important that you meet the individuals who will be caring for your parent, and that you and your family members are comfortable with them. The type of service that a community provides for your parent is personal and needs to be done with dignity, professionalism, and a warm smile. The staff sets the tone for the building; meeting them may change how you view any community.
Understand What Makes a
Great Senior Living Staff
Because this may be the first time your family is looking for senior care, you may not be familiar with how to compare communities. One of the most important pieces to care is the staff. These important individuals will care for your parent, and your family needs to understand how great care staff can make a difference in the health and happiness of your parent.
At the end of the day, this is your loved one's new home. And the most important thing is that they are happy. Discuss what they are looking for in a community before shopping. Write down their wish list as a guide. Help make the next stage of their life as fulfilling as possible by finding the right place for them to live and thrive.
If you are looking for an assisted living community, Aegis Living's warm and friendly staff is always happy to show you around—you can even stay for a meal! Contact your nearest Aegis Living to schedule your tour.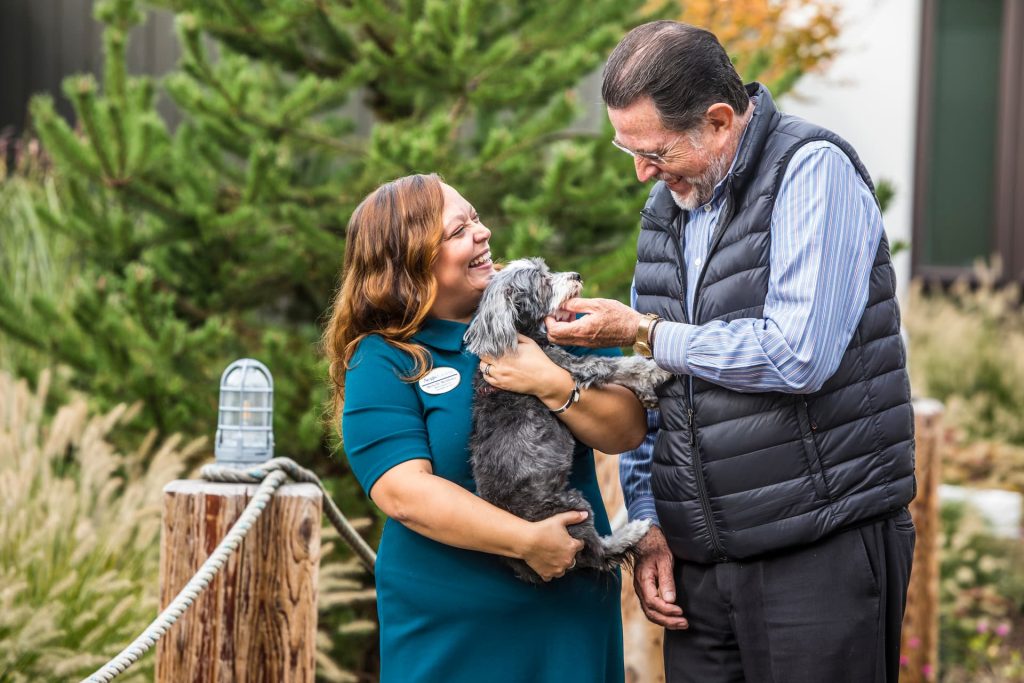 Next up
Aegis Living Difference
CEO and founder, Dwayne Clark, built Aegis Living with the determination of creating an alternative to the current senior housing options available. With more than 35 senior housing communities and growing, he has set new standards in the senior housing industry. Dwayne realized there was a better way to care for and serve our aging population. While working his way up in the assisted living industry as a young professional, he kept a box of dreams, ideas, and innovations that would later form the foundation of Aegis Living. Today, each community has a similar "black box" to collect these ideas from our staff and continue to revolutionize the senior housing industry.
Ready to Find Your Perfect Community?
See what Aegis Living has to offer near you! If you're feeling overwhelmed, just give us a call and we'll be happy to guide you.