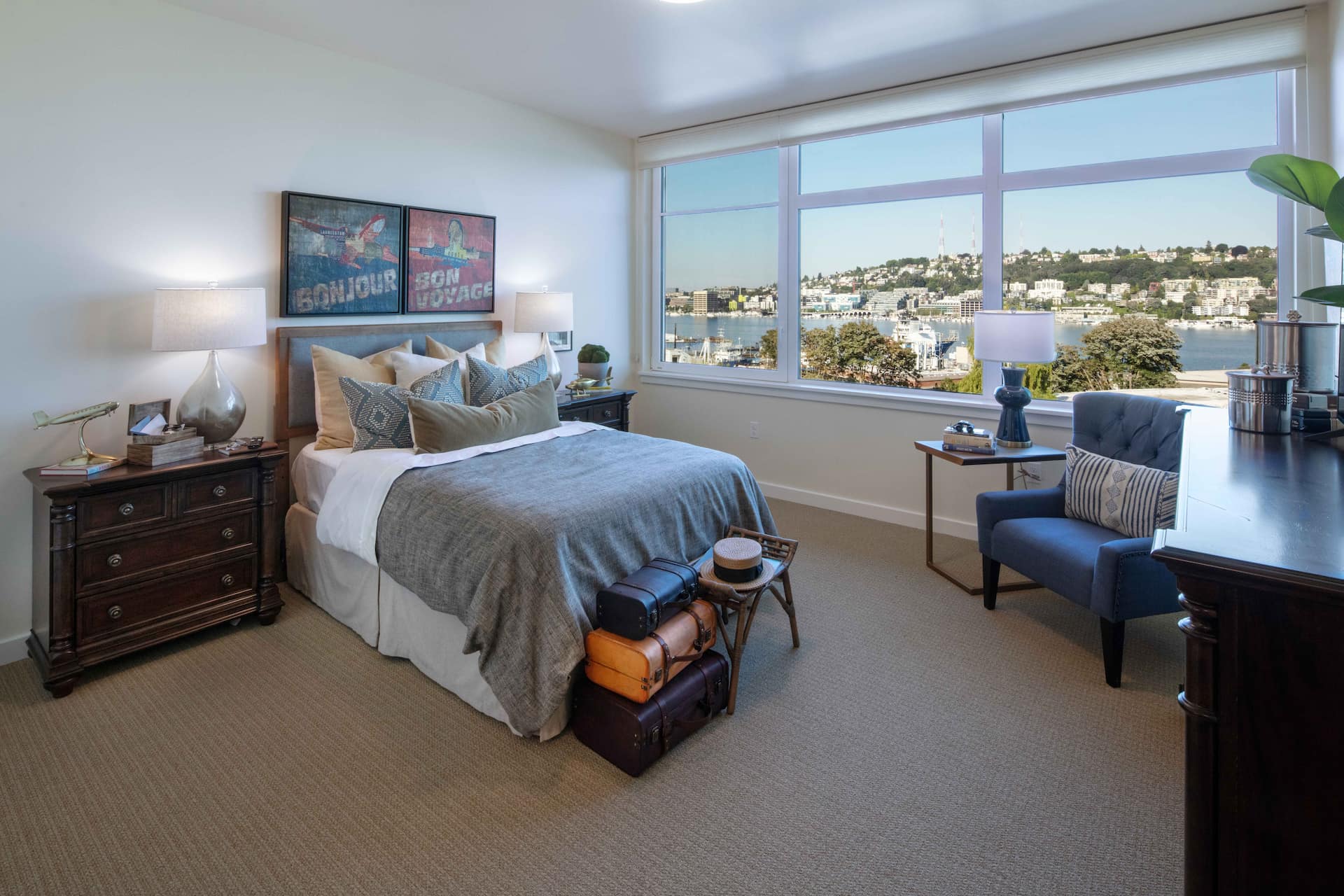 24 Tips for Decorating in Assisted Living
The good news is you don't have to be an interior designer or crafting genius to create a warm and welcoming space that they will love. Here are some decorating tips for an assisted living apartment to get you started on your new plans:
Plan Ahead. Make a realistic floor plan of their new home to help you determine what furniture is needed and will fit properly. Don't overcrowd the space. Your loved one will be more comfortable in their new home if loved and cherished items surround them. But it's important to make sure these pieces are the right size. What cannot be moved into the new home should be sold, donated, or shared with other family members. Your loved one will be happy and comforted to give furniture or kitchen items to a young couple in their first home or a grandchild heading off to college.
Fall Prevention. Mobility can be a challenge for some seniors. In addition, they are in an unfamiliar environment and floorplan. This combination can be a situation that results in an accidental fall. To prevent a fall, keep all pathways clear of cords, loose rugs, and decorative items that could become a tripping hazard.
Organize. Making everyday items convenient for your loved one will improve the function of their home and improve their quality of life. Organizational boxes or baskets are a great tip to keep like items together and within easy reach. Try to avoid having them stretch or stoop for often-used items. Clear boxes are helpful to keep items neat but easy to see where things are being stored, especially for those with dementia or memory loss.
Prioritize Function. Avoid items that are "just decorative" like a wobbly table or uncomfortable chair. Although you want the new apartment to be homey, you need to be practical and make sure every piece has a purpose. Ideally, in a small space, it's great to incorporate multipurpose pieces, like an ottoman or storage trunk that can be used as a footstool, extra seating, an end table, or a bedside table that includes clothing storage. Space may be at a premium as your loved one downsizes. Creative storage solutions will be key for a tidy space.
Consider a Power Recliner. Recliners are an ideal piece of furniture in a senior's home because it can relieve pressure and tension on their body. Those with swollen ankles and feet can find relief and better circulation in the reclining position. And electronic power lift in the recliner can help a senior from a seated position to standing with proper support.
Ensure the Bathroom is Safe and Tidy. Many fall accidents happen in the bathroom from wet floors and slippery bathmats. Most assisted living communities will have grab bars and safety features installed in the bathroom. In addition, make sure bathmats have rubber grips and don't slide. Add a hamper to catch dirty towels, so these are not left on the floor to be tripped on. Install a convenient hook for a bathrobe and rubber-soled slippers for after a shower. Make sure the bathroom is tidy and keep the floors free from clutter.
Be Mindful of Cords. As your family decorates their new apartments and sets up their electronics and lamps, watch for the electrical cords. Failing eyesight may not be able to see these small cords which could trip them.
Add Plants. Add greenery and flowers to their apartment. Plants have a way of making a home feel comfortable and lived in. And don't overlook artificial flowers, which have evolved to look much more realistic and can be added to a high shelf to add a little color without maintenance.
Bring Fido. In most assisted living communities, small family pets are welcome to live in the apartment. Family pets are meaningful connections and friendships in a senior's life. The community may have some restrictions, so it is important to understand these limitations before moving in.
Take a Shopping Trip. A fresh start might mean new linens or accessories to add to their apartment. Plan a list of things needed, along with a color scheme, floorplan, and measurements. Bring your loved one with you to indulge in some retail therapy and to get them excited about their new home.
Honor Your Loved One's Hobbies. Whether they love to collect stamps, paint, play an instrument, or complete jigsaw puzzles, make room for their hobbies. Your loved one now has the time and freedom to indulge in their favorite pastimes. We suggest that you set up a space within their apartment to enjoy their hobbies. Organize their supplies and dedicate enough room for them to work on their projects.
Decorate with Personal Belongings. One of the best ways to make a smooth transition is to decorate with items from their previous home. This can include cherished antiques that have been passed down, a favorite coffee cup, a comforting quilt, or a comfortable chair for reading. These things may be simple, but they can make your loved one feel much more at home.
Personalize the Décor. Everyone wants to live in a beautiful space that represents their taste and reflects their personal style. Painting a room in a neutral hue is relaxing and perfect for someone's traditional taste. But if your loved one embraces color, why change now? Paint color, linens, throw pillows, blankets, and artwork can both reflect their style and create a space they are proud to live in.
Add Character and Charm. Vintage finds can add depth and character to a home. Most seniors have a treasure trove of accessories with a sentimental attachment. Use these items throughout their apartment to surround them with fond memories of years past. Particularly when decorating a small space, these treasures can give a room a sense of history and personality. Also consider how to repurpose these items, like using a teapot as a planter or vintage picnic basket to hold towels or linens.
Use Color. Because a senior's eyesight tends to fade with age, color can help delineate space and brighten the apartment. Don't be afraid to use color, especially for those with memory loss, because color can improve mood and outlook. Sunny yellow can make someone feel positive and optimistic, while blues and greens can soothe and relax.
Good Lighting. Bring in adequate lighting next to the bed or by a corner chair for reading. Lighting at a desk for writing letters or craft projects can be helpful to older eyes. Light in a wardrobe or closet will help them see stored items more easily. Be careful to keep all lamp cords tucked away.
Seating. When looking to furnish the apartment, consider chairs that are higher to get in and out of easily. Sturdy armrests will help older residents to balance themselves. And make sure they have a comfortable chair for their hobby area. Match their tastes and needs with soft upholstery for a luxurious feel or leather for durability.
Right Size Wardrobe. Before you move your loved one into their new apartment, clean out their closets, donate duplicate items, and minimize their wardrobe to what they will need to wear every day. Think about using a dresser that is the right height for their stature to access. Moving is a good opportunity to toss clothing that is stained or needs repair.
Memo Board. One's memory can fade with age. Install a memo board to keep important notes, reminders, and photos for easy access. The cards and items pinned on the board can be rotated to keep it fresh and organized.
Dressing the Bed. The easiest way to make a significant impact in a bedroom is new linens and bedding. Find a bedding set that is inviting in a luxurious fabric, beautiful colors, interesting patterns, and assorted textures. Consider adding soft upholstery on the headboard, an elegant throw blanket, and decorative pillows to dress the bed.
Table Selection. Oval or circular tables work best with non-glass surfaces, which is safer for seniors as they move around. Use side tables next to sofas and chairs to rest a cup of coffee or book. Avoid using a coffee table in the middle of the room that can be a tripping hazard.
Keep It Tidy. Most assisted living communities offer housekeeping to clean their apartment and keep it tidy on a regular basis. But clutter can accumulate over time. Make an effort when you visit to toss any clutter that might be stacking up, rotate items on a memo board to keep it fresh, and throw away any outdated materials or mail. It will be less overwhelming for both you and your loved one to tidy-up a little bit at each visit.
Keep It Positive. Moving is stressful, and things may not always go as planned. But keep the experience light and positive, so your loved one is excited about their new home. And remember, this is their home, and they get a say in how it should be organized and decorated. You want them to love it, and that might mean a compromise on your part.
Take Care of Yourself. Don't forget to take breaks and check how you are feeling moving your loved one into assisted living. Don't underestimate the toll this move can have on you as an adult child or primary caregiver. You may also be going through a tremendous change along with your loved one. You may be giving up your role as a primary caregiver, selling your childhood home, or grieving the loss of a parent or family member. This move can be emotionally and physically draining on you too. Stay positive, ask for help, take breaks, eat healthy, and get a good night's sleep.
A Quick Checklist of Essential Décor and Furniture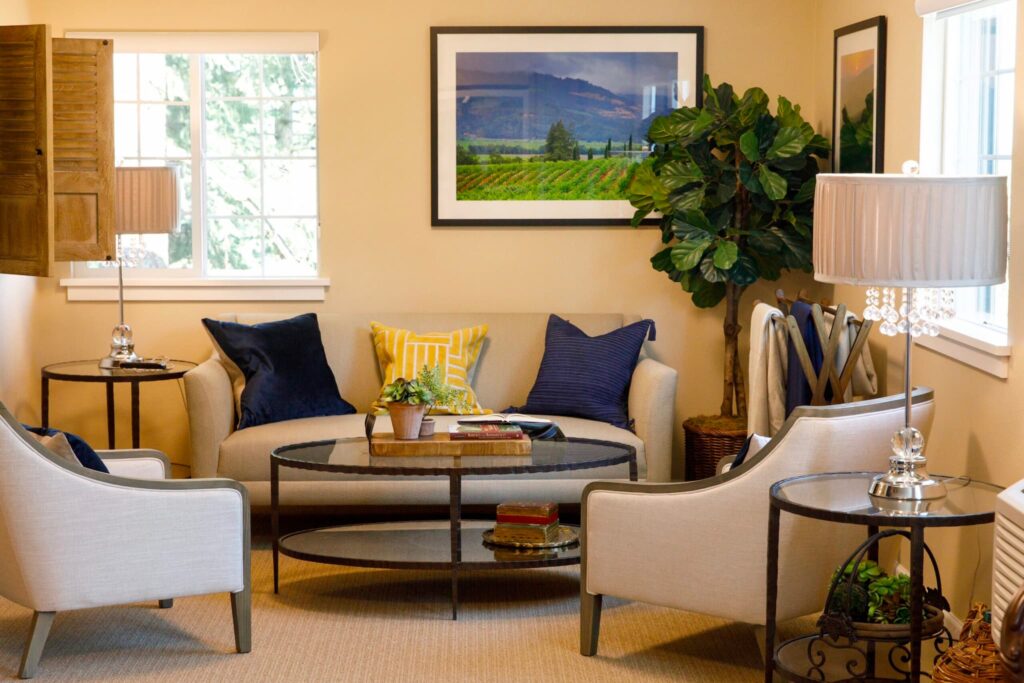 Here is a quick checklist of basic items for a new assisted living home. The list will change based on the format and layout of their new apartment.
Furniture Basics
Bed

Dresser

Bedside table

Small sofa

Recliner or chair

Worktable and/or dining table

Side tables
Décor
Artwork

Photos

Mirrors

Pillows

Blankets

Lamps

Plants

Keepsakes
Housewares
Linens

Towels

Kitchen basics

Coffeemaker

Trash can

Cleaning products

Clothing hangers

Hamper

Clear storage boxes

Alarm clock
Entertainment/Electronics
Television

Computer

iPad

Phone

Chargers

Radio

Board games

Books

Hobby supplies

Playing cards
Clothing and Personal Items
Tops and bottoms

Pajamas

Underwear and socks

Robe and slippers

Shoes and belts

Light jackets and sweaters

Coats, hats, gloves (depending on climate)
Toiletries
Prescription and over-the-counter medications

Eyeglasses and hearing aids

Walker, cane, or wheelchair
Visit an Aegis Living community near you to see how our residents have made themselves at home. Or, if you're still in the planning stages, contact an Aegis Living community near you and ask for advice on moving your loved one.
Ready to Find Your Perfect Community?
See what Aegis Living has to offer near you! If you're feeling overwhelmed, just give us a call and we'll be happy to guide you.