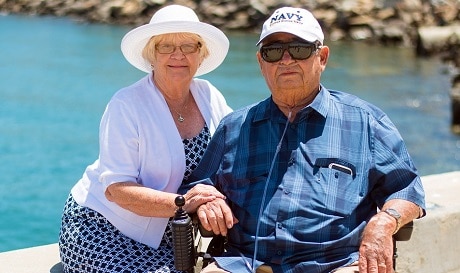 Sharing your life with someone is a big commitment. Marriage comes with a unique set of challenges, sharing life decisions, and emotional support. While wedding vows promise to love and support through sickness and in health, it can be challenging to prepare for what comes with your partner developing a long-term illness such as Alzheimer's and dementia.
Your first instinct is to take care of them no matter what, but caregiver burnout, or failing to take care of yourself first, can lead to more significant issues down the line. To be a supportive spouse, it's important to recognize when you need more help for your loved one. Here are nine signs that it's time to call in reinforcements.
1. Weight Loss
Your once voracious husband leaves full meals untouched and has significantly shed some pounds. There are various reasons older adults stop eating—a weakened sense of taste, chewing/swallowing problems, appetite loss due to medications, or simply forgetting to eat (a symptom of dementia).
2. Poor Hygiene
Have you noticed your spouse looks a little more rumpled than usual? Do you find that their grooming habits are falling by the wayside? It could be a good indication that Activities of Daily Living (ADLs) are becoming too difficult for them to manage without your help.
3. Hearing Loss
Though a common condition in the elderly, hearing loss can lead to broader issues, such as depression, social isolation, frustration, and impacted personal safety. Older adults may be misdiagnosed with early signs of cognitive impairment when they're just having trouble hearing. If not addressed, seniors could be at risk of getting hurt by not being able to hear warning signs of danger. Talking to a doctor about aid options can help reduce risks.
4. Mobility Issues
If your wife is having a difficult time getting out of a chair or has experienced a fall or two, you may want to focus on exercise and balance. They could be losing strength in their extremities, or experiencing pain due to arthritis, or numbness due to other issues. The leading cause of emergency room visits in the U.S. for those 65 and older are falls, and they can lead to bigger problems down the line. Make sure strength and balance is something you're BOTH working on. Your doctor can share the most beneficial exercise program for you.
5. Forgetfulness
Forgetfulness is a normal part of aging, but repeated events of forgetting could be a sign of cognitive decline. If your loved one forgets to get milk at the store, don't panic! If they lose their way home, it is a cause for concern.
6. Confusion
Along with forgetfulness, memory decline can lead to confusion. If you've noticed your partner is overwhelmed when they pivot from their routine or confused about where they are or who they're with, it could be a sign of dementia. Later in dementia, some people may wander. Mixed with confusion, this can be a scary experience for all parties.
7. Aggression
With a mix of forgetfulness and confusion, it's possible someone facing cognitive decline may become aggressive. While it might be a behavioral change from quiet to angry and yelling due to frustration, some aggression may lead to violence.
8. Safety
If your spouse is ill, it may be difficult for them to perform tasks they never had to think about before, such as cooking or driving. If you are concerned about your loved one's safety, it might be time to have a discussion and look into extra help.
9. Caregiver Stress
Caregivers tend to forget about their own needs when they're taking care of someone they love. If you don't take time to care for yourself, you could experience your own health issues. You may not be ready for your spouse to move away from home, but respite care or day stay program can provide a window of time for you to take care of yourself, and ensure that your loved one is receiving proper care.
When you feel your loved one could benefit from full-time care, it may be time to look into assisted living. Aegis Living offers transitional care for those not quite ready to move into memory care. If that time has come we also offer Life's Neighborhood's memory care program designed to help ease the symptoms of dementia and celebrate the life of the individual, providing personalized care to meet them wherever they are in the progression of their memory loss. The secured memory care wing is modified to keep residents safe, healthy, active and comfortable to give you peace of mind. Contact the community near you to set up a tour and learn more.