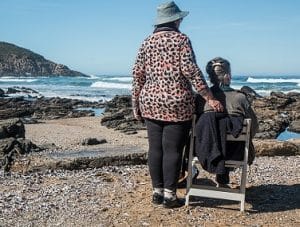 Caregivers. First thing's first. Take a moment to be proud. You've taken on the most difficult job you've likely ever had, and you deserve recognition. Second, it's time to talk about self-care. What are you doing for yourself? Are you taking time for self-care?
According to a 2017 survey conducted by AARP, four in ten caregivers say they were not prepared to take on the family caregiver role. Caregivers providing round the clock care are a vulnerable population, more likely to feel emotional stress, and physical and financial strain. They are also more likely to be in fair or poor health and are at risk of their health getting worse.
Caregivers have reported feelings of depression, sleep troubles, weight loss or gain, and lack of time to exercise because of caregiving. The statistics about caregiver health is staggering:
48% of unpaid caregivers felt they needed medical help or support for a mental health condition due to their caregiver role.
45% of unpaid caregivers don't have time to attend their own medical appointments.
43% of unpaid caregivers put the health of the person in their care above their own.
Actor Rob Lowe says it best, "From my own experience, I can assure you: The person you're caring for needs you to be at your best. If you don't take care of yourself, you won't have the energy or the means to provide the reliable care that your loved ones need. "
How Can You Care for Yourself?
Set realistic expectations. Being a caregiver is a 24/7 job, you don't need to take on additional projects because you feel obligated. If you've been asked to do something, even by the person you're caring for, that you can't realistically fit into your schedule, don't do it.
Prioritize your time. You don't have to try to be Martha Stewart! If you're feeling up to having the whole family over to enjoy a meal, you do not (I repeat, DO NOT) have to prepare a 5-course meal, with a perfectly set table and hand lettered table settings. Keep meals simple. You can enjoy time together with takeout or pizza delivery. If you also have kids in the house, don't be star PTA mom/soccer coach/primary kid shuttler. What little downtime you have is important, make sure it stays open.
Stop Feeling Guilty. It might feel selfish to preserve a little time for yourself, but guess what? It's not. The person you're caring for needs you to be healthy. You can't be at your best if you're overexerting yourself. Do you have a trusted friend you can vent to? Share your guilty feelings and then give yourself permission to get over your guilt. Caregiver support groups are also great for sharing your feelings. And in return you'll get great tips from other caregivers going through similar emotions.
Ask for help. You don't have to do this by yourself! If you have older children in the home, it's a great opportunity to bond with their grandparent. If you have extended family in the area (brothers, sisters, etc.) ask them to help you with tasks like taking your parent to doctor's appointments or entertaining them for the afternoon. For those taking care of spouses, asking your children (if they're in the area) is not a burden. Don't be afraid to ask them for help. If you don't have children, or they're not in the area, it's more than likely your close friends are willing to help.
If you are a caregiver in need of a well-deserved break, Aegis Living communities offer respite care and day stay programs. Your loved one will take part in our extensive Life Enrichment program, enjoy delicious meals from our superb chefs, and receive the best care from our loving care staff so that you can take time for yourself and trust that they're in the best hands.