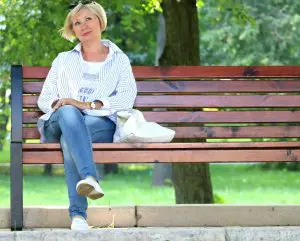 A common piece of advice for caregivers is, to effectively take care of others you must first take care of yourself. But when is there enough time? If you are juggling a full-time job, spouse, children, friends, and a full calendar of obligations plus caring for an aging parent, you may just be trying to keep your head above water. But it is true. If you don't take care of yourself, you will burn out.
---
Caring for yourself may mean small breaks in your day or treats to keep you feeling refreshed. It might also mean taking a few days off for yourself or a vacation away from home. We are here to help.
Take Time Off. This very idea may seem impossible for many. But giving yourself some much-deserved days off to either rejuvenate, take a vacation with your family, or just re-center yourself with a staycation is important. At Aegis Living, we offer short-term care for your parent. Also referred to as respite care, your parent can enjoy the amenities, activities, and friendship that assisted living communities offer, as if they were a full-time resident. They will stay in a fully-furnished apartment and be cared for by our nurses and 24/7 care staff. You and your family can enjoy a break knowing that your parent will be well-cared for. A respite stay is also a great way to introduce your parent to the idea of assisted living. It can ease a transition into a permanent move. Many enjoy their stay so much that they don't want to leave. Contact your local assisted living community and ask about their respite care option.
Here are a few more suggestions to care for yourself:
Exercise. Just this word "exercise" might intimidate you. When could I possibly find time to exercise? Don't let the idea that you have to go to a scheduled class or a join a gym stop you. Try to make small changes to your routine to add exercise or activity throughout your day. Try to park further away from the grocery store or take the stairs instead of the elevator. Take a 30-minute walk during your lunch break. Perhaps you can get up a half hour earlier and follow an exercise class on your phone. Dance in the kitchen when making dinner, do lunges behind the vacuum, or squats as you blow-dry your hair or wait for the coffee to brew. Little changes can have a big impact on your health. Encourage your parent to join you for a stroll in the mall or a walk around the block. As little as 30 minutes of exercise per day can have a significant impact not only physically but beneficial to your mental health too.
Proper Sleep. The restorative power of a good night's sleep should not be underestimated. We suggest that your bedroom should be a haven for rest. Keep it dark, cool, and quiet. Keep it free of stimuli such as a computer monitor, TV, or even stressful paperwork like work from the office, medical bills or insurance documents. If your parent lives with you and you need to be able to hear them, we suggest a baby monitor for peace of mind. Also, set up a bedtime routine for both you and your parent. Try to go to bed and get up in the morning at the same time each day to keep your sleep cycle regular. Listen to music, read a book, turn off your phone, gently stretch, or try deep breathing to get yourself into a restful state of mind at least 30 minutes before you go to sleep.
Nutrition and Hydration. You may pack lunches and plan meals for your loved ones, but often you grab a candy bar or can of Coke for a quick pick-me-up during the day. You spend so much time taking care of others that your own nutritional needs may get overlooked. Starting today, make your nutrition a priority. Drink plenty of water and fluids throughout the day to stay hydrated. Eat plenty of vegetables and fruit for vitamins and fiber. Try to avoid fast food for real food and replace junk food with healthy snacks. These treats may be a quick comfort or sugar-kick, but in the long term, you don't want to neglect your health.
Tend to Your Own Healthcare. As our parents get older, their healthcare needs increase. Between a variety of doctor's appointments and running to the pharmacy or physical therapy, you may forget to take care of your own health care needs. See your personal physician regularly, perhaps your appointments can be made near or coordinated with your parent's appointments. Visit your dentist and eye doctor as needed. Also, the strain you are under caring for a parent can be stressful so consult with your doctor if you have any concerns about your health. And if the weight of this stress is bogging you down or causing depression, consider getting a therapist to talk to.
Reduce Stress. Meditation, tai chi, and yoga can be effective ways to reduce stress and focus on yourself. Taking a few minutes out of your day to practice mindfulness can make you a better caregiver for your parent. These practices bring you into the present moment. It's dedicated time to focus internally on your breath and how your body is feeling. And the best part is these take no specialized equipment, and these can be done almost anywhere. Also, guided meditations are as close as your phone. Many apps will lead you through the steps of a restorative meditation. Meditation, tai chi, and yoga can also be very beneficial to your parent so consider having your parent participate with you to get started.
Caregiving is a tough job, and your effort may feel unappreciated at times. Don't let this get you down. Helping your parent is a kind and honorable act. But it doesn't mean that you must lose yourself. You will be a better caregiver if you are feeling healthy, strong, and rested. Take good care of yourself. Take a break when you need it and don't be afraid or feel guilty to ask for help. You deserve it.