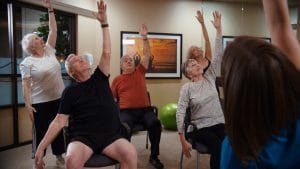 Exercising is beneficial at any age. But it can be particularly important for seniors who want to stay active, continue to enjoy their hobbies, and avoid depression. Regular exercise can help strengthen muscles, reduce the risk of heart attack, lower the risk of falling or injury, and contribute to an overall sense of well-being and happiness. Keeping their body strong and limber through stretching will help your parent maintain balance and mobility. Exercise should be a part of your parent's routine for continued health.
If your mom hasn't been active for a while, we suggest that she start out slowly. She should gradually build up her endurance and strength. Also, we advise that she consult her doctor before starting an exercise routine. Her physician can recommend a workout plan that meets specific needs and goals safely. Here are five safe exercises for seniors that will provide a variety of health benefits.
1. Yoga or Chair-Yoga. Yoga is an excellent workout for seniors because it focuses on the total body. Yoga helps to build muscle mass, increase balance, core stability, improve flexibility and mobility, and it can even be aerobic. Although yoga is a great workout, it is low-impact and gentle on a senior's joints. Poses in yoga are weight-bearing, so you support your body weight to build strength. But yoga poses can also be modified to be done while sitting in a chair with great benefit to aging seniors who can use the chair for additional support. Yoga can be beneficial for anyone, regardless of their age, flexibility, or mobility issues.
Also, yoga is a terrific way to practice relaxation. This is something that can be learned and should be practiced. Deep breathing and sustained focus can melt stress away. Seniors can have the same worries or stressors in their life as younger adults, so practicing relaxation can be beneficial to their overall sense of well-being. And the breathing skills learned in a yoga class can be applied throughout the day anytime to decompress. Inhale deeply and exhale slowly for a quick pick-me-up. Namaste!
2. Tai Chi. Much like yoga, tai chi is an incredible, low-impact total body workout for seniors. It's a gentle exercise that focuses on helping seniors improve their balance and core strength to keep them steady and help with fall reduction. It consists of slow, graceful movements that are combined with deep breathing. For such a simple and beautiful exercise, studies have shown amazing benefits that range from increased leg strength, better endurance, and improved flexibility to boosting the immune system, improving sleep, and helping with concentration.
The New York Times cited a study that compared the brains of older adults who regularly practiced tai chi with sedentary adult brains of the same age. Those who practiced tai chi showed greater connectivity and health in portions of the brain associated with decision-making and attention than those who never practiced tai chi. Look for a class at your local senior center Some organizations will offer chair tai chi that uses a chair for additional support as an alternative for seniors.
3. Walking. Try to add 30 minutes of walking to each day for a maximum health benefit or start slow with the goal of building to 30 minutes every day. Walking is free and can be done almost anywhere. Other than a good pair of sneakers, there is no membership necessary and can be incorporated throughout the day into their schedule. Try to park a little farther away from the grocery store to get in a few extra steps or take the stairs and skip the elevator, if possible. If the weather is bad, hit the mall and enjoy the window shopping.
According to a recent article in U.S. News, the fear of falling is a real concern for many seniors who feel unsteady on their feet. Typically, if a senior is worried about falling, it's for a good reason. But not walking and leading a sedentary lifestyle is bad for their health too. The good news is that walking can help improve strength and balance to reduce falls. If your parent hasn't exercised in a while, walking around their neighborhood is a good starting point to build a foundation and to establish a new routine. We suggest that they begin with short walks and increase their distance slowly over time. Be their walking buddy or encourage them to walk with a friend and to use a cane or walker for extra support.
4. Swimming. Swimming is an ideal low impact exercise to get the heart pumping with minimal stress on the joints. One study has shown that men who swam in a control group of 1,700 men over the age of 70 were 33% less likely to fall compared with the other men in the study. In contrast, men who did other activities, including golf, walking on a treadmill, Bocce ball, and other forms of aerobic activity, were no less likely to fall. The reason seems to be that swimming develops your core strength, which is imperative for balance and a protective factor to reduce falls. Find a local public pool or join a gym with a swimming pool and check if they offer classes for seniors.
5. Strength and Balance Training. As we have mentioned, falling is a real concern for many seniors when their balance seems to diminish, and they are less steady on their feet. Strengthening the leg muscles, and more importantly the core muscles, are the best ways to reduce falls. But we don't encourage most seniors to head to the gym to lift weights on their own. To keep this exercise safe and to avoid overdoing it, we suggest that your parent works with a trainer or joins a class specifically for seniors that adjusts a strength and balance routine to their ability and gradually increases weights as they get stronger. Posture and form on these types of exercises are critical to prevent injury. But the benefits to their health is well worth the effort.
At Aegis Living, we encourage all seniors to live a full and healthy life. We feel that exercise is an essential part of healthy living. Life Enrichment programs within our communities are filled with engaging activities and exercise classes to keep residents active, such as our balance studio to aid in fall reduction. Tour a community today to see everything we can offer your parent to keep them healthy.