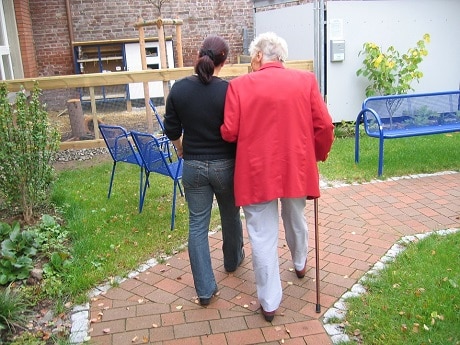 Did you know that the leading cause of injury among elderly adults is the result of a fall? In fact, falls send over two million people to the ER every year! Some falls cause minor bruises and scratches, while other falls can result in an acute injury like a broken hip, immobility, brain injury, or possibly, death. And most falls happen in the home. To lower your parent's risk of falling, we suggest a few areas to evaluate to make them safer.
Safety Evaluation
First, if you are watching your parent become increasingly unsteady on their feet or they have experienced a fall, you should make an appointment with their physician to help rule out any causes that might be preventable. Drug interaction (both prescription and OTC) and the side effects of certain medications can cause dizziness, numbness, shortness of breath, and loss of muscle strength. Issues, like pain and discomfort, can affect their walking gait or an ear or eye disorder can impact their balance. Their physician can be a valuable partner to help you assess your parent's risk of falling and how to treat their mobility issues.
Once you have ruled out any medical reason for their falls, then you will want to look at their home and prevention.
Good Lighting
This idea may seem simplistic. But, keeping your loved one's home well-lit (inside and outside) can be highly effective and shouldn't be neglected. As their eyesight begins to dim and fade with age, a well-placed light can make a noticeable difference.  Replace broken or burnt-out bulbs to prevent dark corners, especially on staircases and outdoor steps.  Place nightlights in the bathrooms and hallways.  Add extra lamps to brighten a room and always make sure they can reach a bedside lamp during the night.  Keep all pathways to their light switches clear of furniture and obstructions.  And especially during the darker winter months and with the risk of power outages, keep flashlights charged and located throughout the home with additional batteries on hand.   
Sensible Footwear
Don't underestimate the importance of proper footwear in fall prevention.  With age, your parent's feet will change, invest in nonskid footwear.  Many seniors lose the fat padding on the bottom of their feet, which can cause discomfort, so make sure their shoes fit comfortably with support and cushion.  If you are concerned about their feet, we suggest your parent meets with a podiatrist to help them determine a strategy for their footwear. The technology in shoes has improved, lighter weight, better treads, easy closure, sturdy support, and softer cushioning. Buy new footwear that meets their needs and will keep them more active. We also suggest that you clear out closets of outdated footwear and heels that they should no longer use.
Physical Activity
Now that they have the right footwear, let's put it to use! Exercise can help improve balance by strengthening their core, helping with flexibility, and improving coordination. When you meet with their physician, discuss what types of activities might be appropriate for your parent.  In our Aegis Living communities, we offer balance classes to encourage residents to be active and strengthen their core.  If your parent is living at home, suggest they take part in classes at a local senior center.  Or, if approved by their doctor, try low-impact activities like walking, chair exercises, yoga, and swimming. Physical strength and stamina can help in preventing falls.
Safety Around Their Home
This step means taking a close evaluation of your parent's home.  Walk around their entire house (both inside and outside).  Check that all pathways are unobstructed and free of issues that could cause a fall.  Outside the home, you may want to trim hedges, rake leaves, sweep pathways, and check for loose pavers that could cause a fall. Tuck away electrical cords, move furniture, and cut down on clutter, so they can easily walk around inside their home. Pay close attention to rickety floorboards or wrinkles in the carpet that should be secured.  Remove area rugs that slip or place on a nonskid rug pad.  Install treads on wooden steps for sure-footedness. 
One point of hazard for many seniors is the bathroom, where they can slip on wet tiles or a loose bathmat. And typically, in a smaller bathroom, they may find maneuvering the space harder. Here are a few tips to secure the bathroom: try nonslip bathmats, install grab bars in showers, anchor towel bars so it can hold their weight if grabbed, buy a shower stool or bench, ensure toiletries are within easy reach, consider a handheld shower nozzle to use while sitting, and a raised toilet seat with supportive armrests.
Medical Alert Device
If your parent falls one time, it doubles their chances of falling again.  You and your family can rest assured that if your parent falls and is unable to get up that a medical alert device can call for help. These systems are typically small, battery-operated devices worn as a necklace or wrist band.  If your parent falls, they can press a button to connect with an emergency response center.  Newer devices on the market can detect a fall and automatically alert.  Some seniors are resistant to wearing a medical alert device or feel they don't need it.  In this case, encourage them to carry a cell phone in their pocket. And show them how to charge their phone.  If they fall, they will be able to call 911 for help.  There are many alert systems and cell phone plans available to fit their lifestyle and price range.
Use Support
If your parent has experienced several falls, their physician may recommend a cane or walker to help them.  Keep in mind, a transition to a cane or a walker can be difficult for some seniors.  They may resist using them because it makes them "feel old" or less independent.   They can be awkward to adjust to at first but encourage them to use these for their safety.   Canes are suggested more often for mild to moderate balance issues, and a walker is needed for greater stability for those with significant balance concerns.  If your parent does use a walker, it is important that the pathways within their home are clear and will accommodate the broader base of a walker.
You can't prevent a fall 100% of the time, but you can take preventive measures to help keep your parent as safe as possible. If your parent is frequently falling, they may no longer be healthy or safe living on their own. An assisted living or memory care community offers your parent the companionship and assistance they need to live a full life and maintain their independence as long as possible. If you are interested in an Aegis Living community, stop by for a tour and see the safety features we offer to prevent falls, including our safety chair rails and balance classes.