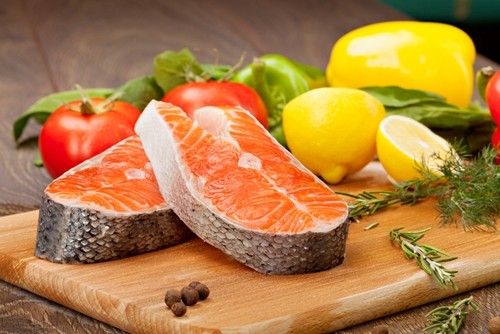 You probably know that eating a balanced diet is great for your loved one's physical health, but did you know that sticking with healthy choices may also help to improve your parent's mental health? "You are what you eat" is true for both body and mind, and your brain needs power and sustenance just like any other organ.
However, there are some foods that are better for cognitive function than others. Next time you and your father are at the market, be sure to add some of these Superfoods to your cart:
Salmon (and other oily fish)
These types of proteins are loaded with omega-3 fatty acids. Omega-3s, like DHA and EPA, may benefit mild memory loss, as they play an important role in brain function and development. Some researchers also claim the omega-3s from fish oil may also improve depressive symptoms. So not only can omega-3s help one's heart health, they also impact brain function.
Blueberries
These sweet treats are delicious and easy to find, and they may even help improve memory or delay short-term memory loss. Blueberries are also easy to include in your morning cereal or yogurt or can simply be eaten by the handful as a tasty mid-afternoon snack. One cup of blueberries provides 24% of a person's recommended daily allowance of vitamin C, while also containing powerful antioxidants like anthocyanin.
Whole grains
We need carbs to power our brains, but whole grains add an extra healthy punch because they have a low glycemic index. Rather than the "sugar rush" you may experience from processed carbs, whole grains feed a steady supply of glucose into the bloodstream. This may allow for a more balanced mental state throughout the day. To up whole grain intake, try to include brown rice, whole grain breads, pastas, oatmeal and popcorn on your parent's grocery list.
Dark chocolate
Does your dad have a sweet tooth? Not to worry – dark chocolate is actually a great thing to include in his daily diet (in moderation, of course). While it does contain caffeine, there are only small amounts of it compared to sodas, tea or coffee. There are also plenty of antioxidants in dark chocolate, which can fight off free radicals that impede cognitive function.
Water
While water isn't technically a food, becoming dehydrated can lead to weakened or even shrinking brain tissue. An increased amount of medications can also cause dehydration, which is common as we age, so this means that your older loved one may need to be drinking at least 2 quarts of water per day, or about half his weight in fluid ounces – whichever is higher.
Eating right is important for your parent's health, and these Superfoods, and more, can give him the nutrients he needs to keep his body and mind in a healthy state.
Find out how we provide nutritious, delicious meals at Aegis Living, which often include memory boost foods like Superfoods.