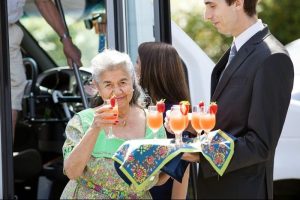 As temperatures remain in the 80's and 90's across much of the Western United States, concerns for seniors and those more vulnerable to dehydration continue to grow as well. Water is an easy answer but experts at assisted-living industry leader Aegis Living say there are tastier alternatives that are good for brain health.
Summertime means more dehydration cases and more trips to hospitals nationwide and seniors are especially vulnerable. As we age, we don't notice the symptoms such as body temperature changes. In addition, some medications promote dehydration and it's a fact that seniors don't experience the same level of thirst that younger people do: the result? Studies show dehydration is one of the top conditions sending people 65 and older to the emergency room. Symptoms range from headaches to nausea to loss of balance and confusion and in severe cases, unconsciousness and heat stroke.
Aegis Living Offers Nutritious Ways to Maintain Brain Health
At 32 communities across the Western United States, Aegis Living provides highly visible and enticing "hydration stations." A hydration station is a large apothecary beverage dispenser where ice cold water is infused with fresh natural ingredients like cucumbers, mint, strawberries, blueberries, lemons and other fresh, nutritious locally-grown ingredients. The result is an answer to dehydration that tastes great.  Aegis Living Executive VP of Operations, John Carpentier says, "Staying hydrated is vital for brain health. That's why we offer hydration stations in all of our communities. It's something that can't be overlooked as the temperatures rise."
Doctors say dehydration is a frequent trigger for urinary tract infections (UTI's) among seniors. Unfortunately, UTI's can exacerbate memory loss or dementias such as Alzheimer's disease. Many residents at Aegis Living communities live with Alzheimer's disease or other forms of dementia.
Aegis Living Chefs help keep residents hydrated through the hot summer months by offering a variety of infused waters.  By changing the flavors daily residents stay interested in staying hydrated.  Infused water is shared at functions and as well as displays in convenient locations in each community. Local berries are incorporated, fruit and herbs whenever possible. It's fun to be creative and try different flavor combinations.
Here are some simple combinations to enhance your everyday drinking water.
One gallon ice water +
Cucumber & Mint
Sliced cucumber (1 large English cucumber) and mint (8-10 sprigs)
Strawberry & Basil
Strawberries (1-2 baskets – 12-16 in a basket) and fresh basil (8-12 leafs of basil)
Blueberry & Red Grape
blueberries (1-2 baskets, 30-40 ) and red grapes (1-2 baskets) cut grapes in half for flavor
Lemon & Raspberry
lemon (2 lemons, go light on lemon or it becomes too bitter), 2 baskets raspberries (24 in basket)
Orange & grapefruit
2 of each (remove the peels for best results)
Keeping residents quenched is just one of the many ways that Aegis Living strives to boost cognitive wellness and other health benefits.