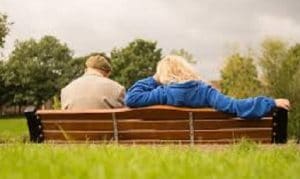 Caring for someone with Alzheimer's or another form of dementia can be challenging and overwhelming on the best of days. Your parent with dementia will develop uncharacteristic behaviors, have bad days, or ask questions repeatedly. Frustration is a valid feeling, but it shouldn't define how you always feel about caregiving. These negative emotions can lead to stress, depression, and even anger. They won't benefit you as a caregiver or be helpful in managing the care of your parent. Learn to recognize when you are getting frustrated and how to handle those negative feelings by caring for yourself, asking for help and taking a break.
Managing Frustration
Take a break.
The behaviors associated with dementia come with a lot of uncertainty. One day your loved one might be lucid and enjoying their day, and the next day filled with anxiety and discomfort. You cannot predict one day to the next. If you find yourself irritated after they refuse to eat or keep repeating behaviors, take a break. Walk out of the room and count backward from 10 to one. Focus on breathing in deeply and slowly exhaling. Grab a glass of water or splash some water in your face. Your parent is not trying to upset you—this is part of the disease. But before you say or do something that you will later regret, take a short break. And if you fear they will be offended if you leave the room, tell them that you need to use the restroom. Acknowledging that you are frustrated and taking a moment to clear your head and regroup is important.
Adjust your thinking.
You may not be able to change an irritable behavior that your parent is displaying, but you can change your reaction to that behavior. We understand this can take some practice but try approaching your situation with gratitude. Gratitude can help you turn the negative into a positive. None of us are perfect. We are not mind readers, and we can't predict the future. Be gentle with yourself. You are in a stressful situation, and we know you are doing the very best that you can. Try not to add to the stress of the situation by blaming yourself. You are not responsible for a disease that is beyond your control. But you are in control of how you think, which can affect how you feel.
Ask for help.
Knowing your limitations and asking for support when you need help is not a weakness. But you must also be open to accepting help when offered. What you do for your parent or spouse day in and day out takes commitment, courage, sacrifice, and love. It can also be physically exhausting, mentally draining, and financially difficult. No one expects you to take on this responsibility alone, but you must be assertive and ask for what you need. Somethings may be simple, like asking a friend to let you vent or going for a walk together to get a break. More significant requests like asking for a few days off to recharge, adjusting your work schedule, or accepting financial help can be much harder to ask. Good communication with your family members, friends, and even your boss or coworkers will allow you to ask for what you need and express how you are feeling. People can't help you when they don't know that you need help in the first place.
Say no.
Saying "no" can be very difficult for many caregivers. Guilt stops many of us from putting limitations on our time, energy, or finances. But saying no is a valuable tool to not overextending yourself, which can lead to or add to your level of frustration. Your friends and family understand your plate is full with caregiving. If they don't understand, you need to share with them how you are feeling. Part of saying no is keeping things simple at home. Everyone will enjoy a purchased pizza as much as a meal made from scratch when shared with family and friends. Maybe this year you limit the amount of holiday decorating or events that you attend. Focus on what is necessary and what adds to the health and happiness in your home.
Self-care so you don't get lost.
We all know that you cannot care for others if you first have not cared for yourself. Self-care may be easier said than done. But don't let yourself get lost in caregiving. Take time off to recharge when you need it— whether that is a massage, haircut, afternoon coffee with friends, or a few days break. Try to continue pursuing your hobbies, interests, and passions to feel good about yourself. And try to maintain an exercise program, eat well, get a good night's sleep, and visit the doctor for your medical needs. If you don't take care of yourself, you will be prone to higher levels of stress and frustration.
Caregiving for a loved one with dementia may feel like you are just keeping your head above water. Don't underestimate how draining this can be on you and your family. It's important to care for yourself before you can care for others. Hopefully, these tips will help you decrease the stress and lower your frustration.
For more information about how to take a short break contact your local Aegis Living.