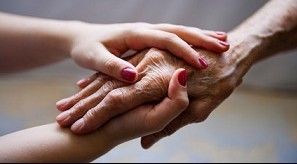 As a caregiver, do you take proper care of yourself? The chronic stress attributed to the caregiver of an elderly spouse or family member can have significant negative effects on your health and longevity. Your health and stress level should not be ignored. Striking a balance of care for your loved one and yourself needs to be a priority.
Research has shown that chronic stress can speed up the aging process, reduce the immune response to vaccines, delay wound healing, increase depression, increase susceptibility to infection, and shorten our lifespan. Many of these effects can be attributed to hidden inflammation caused in our bodies due to chronic stress. Inflammation is a normal response to injury or stress. But too much inflammation has been associated with several age-related diseases, such as Parkinson's, Alzheimer's, arthritis, diabetes, osteoporosis, and coronary heart disease.
Caregivers who take a proactive approach to problem solve caregiving issues before there is a concern or crisis are much less stressed than those who are not prepared.
What are the signs of chronic stress?
Feeling guilty, overwhelmed, sad, or worried.
Easily irritated or flying into a rage
Feeling constantly tired, not sleeping, and fatigued
Lack of interest in hobbies, others, activities, or exercise
Abusing alcohol or drugs
Change in sleep patterns
Losing or gaining weight
Headaches or lower back or neck pain
How can I reduce chronic stress?
Adjust your attitude. Identify what you can do and accept what you cannot change. Not everything is in your control except for how you react to a situation. Perfection should not be the goal but happiness and healthiness instead.
Day in and out. Establish a daily routine. This will be both beneficial to you in managing your time and for the loved one to predict their day.
Ask for help. Others want to help and offer to help, but you need to accept their assistance. There is no shame in asking for a break or help on the behalf of your loved one. You need to build a support group you can rely on.
Manage projects. Break large projects into smaller, more manageable tasks. You will feel more accomplished as you complete small goals. This will help to reduce your feelings of being overwhelmed.
Problem solve. Take a moment to think about the issues you face and the potential solutions. Discuss these with your friends, doctors, family member, therapists, or seek a solution on the internet. Try to be proactive before a crisis or problem arises. There are many resources that can be of assistance.
Rely on your family and friends. Stay in close contact with your family and friends. Keep them in the loop of your loved one's health and changing needs. Lighten your load and share your concerns. If you keep your family informed then they will be more willing to help whether in person, financially, or other.
Get assistance. There are resources in your community to help with your situation. Explore local caregiving resources, home health care options, housekeeping or gardening assistance, or home modification services to adapt your home to their changing needs.
Join a support group. Never underestimate the empathy from others in your same situation. A support group can be a powerful stress-buster.
Take care of yourself. Eat properly, get plenty of sleep, meditate, and stay active. You need to care for yourself before you can care for others.
Give yourself a break. Plan one or two small breaks during the week, whether that is coffee with a friend, a walk in the park, or a shopping spree. These mental health breaks will reduce your stress and elevate your mood. Perhaps you need a longer break, consider a short-term stay in an assisted living or memory care community.
Embrace technology. There are ways to keep your loved one safe that will alleviate your stress level. Emergency response systems, such as a necklace or bracelet, can be activated at the press of a button to call for medical help. Alarms on the doorways to prevent those with dementia from wandering outside alone or a GPS device to help track someone's moves.
If a short term stay is an option to help relief caregiver stress reach out to one of our Aegis Living communities to find out how we can help.