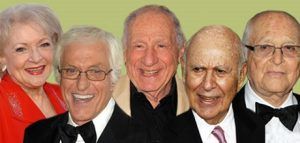 On Monday, HBO debuted a new documentary, "If You're Not in the Obit, Eat Breakfast." It's a celebration of life after the age of 90, featuring Carl Reiner, 90, with Mel Brooks, 90, Dick Van Dyke, 91, Norman Lear, 94, and Betty White, 95. This documentary explores the question: How do these individuals stay so energetic? And it also weaves a commentary throughout about the negative stereotypes that our society has of the elderly and the frustrations of being marginalized. These actors, athletes, designers, and entertainers, all in their 90's, are living examples that it's not all downhill as you age. Their laughter, vitality, and joy for life are truly contagious and may shatter some of the stereotypes you have about getting older.
This vitality for life is something that we clearly see every day at Aegis Living.
Where some people may see an "old folk's home," we see a community full of life stories and adventures. At Aegis Living, we build assisted living communities that honor generations, help them live as independently as possible, and engage our mature residents to keep their minds sharp and active. Our unique Life Enrichment programming taps into the creativity of our residents—whether through music, art, gardening, or culinary–encouraging self-expression and the sharing of talents. Our hallways are filled with laughter, engaging conversations, and true friendships. Aegis Living residents are active members of the local community, giving back to charities and supporting those in need.
Our experience knowing a host of accomplished and vital seniors has led us on a quest to determine the keys to longevity. Our founder, Dwayne Clark, and his expert team are collaborating on a book to share the secrets of how to live a long and healthy life. We have compiled research and scientific findings with practical advice and tips from our combined years in the industry. And we have posed this question to many of our centenarian residents. There are many factors to living a long life, but sometimes the simple answers are the most effective. Here are a few:
The More, The Merrier – Having an active social life that includes close family and plenty of friends is vital for longevity. Being a social butterfly can have positive effects on your health and reduce cognitive decline as we age. At Aegis Living, residents make newfound friendships to keep each other active and engaged. All too often, we encounter seniors who are stifled living at home alone. But once they move into a community, they thrive after experiencing the comradery, the variety of activities, and close interactions with peers.
Move It or Lose It – We all know that exercise is important. Exercise can boost your mood as well as your energy level. Being active is something that you need to do throughout your life. Walking, stretching, and getting your blood pumping is good for your stamina, balance, strength, and mental health. Although your exercise routine may change and evolve physically, the benefits are still there at any age.
Don't Throw Caution to the Wind – Be prudent about wearing your seatbelt, biking with a helmet, and looking both ways when crossing the street. Be cautious when getting up on a ladder, driving in bad weather, playing golf in a lightning storm, or engaging in any activity that may be dangerous. According to many of our residents, most risk takers won't reach 100. Some may call it "clean living," others conclude that it is just practical.
Find Meaning in Your Life – Find you passion, love with all your heart, donate your time, or dedicate yourself to a cause. A purposeful life can give you direction and contribute to your long-term Just ask 101-year-old Margaret Hardin at Aegis on Madison, she makes blankets for Childhaven, an organization for young survivors of abuse and neglect. She leads a feisty group of grandmothers who make each blanket with care and love, like a warm hug for a child in need.
Let Things Slide Off Your Back – Optimistic people tend to live longer because they are more resistant to stress and tend to lead a healthier lifestyle overall. Optimism is a good predictor of a long life. Try to reduce the stress in your life. Our residents advise dropping grudges and trying not to worry so much. Strive for balance and don't sweat the small stuff. Meditation can help focus your energy in a positive way. Again, this might seem like an easy answer but high blood pressure and continuous stress on the body can shorten your life expectancy.
As caregivers and staff at Aegis Living, we are privileged to serve and care for these remarkable individuals. We are bolstered every day by their optimism and zest for life. Many of them would wholeheartedly agree with the words of Dick Van Dyke, "People are more afraid of aging than death these days. And we need to tell them there's a lotta good livin' to do!"