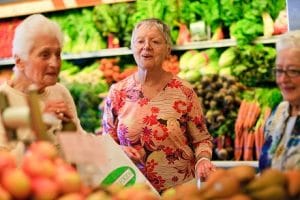 In February, we celebrate those we love on Valentine's Day with flowers and chocolate heart boxes. But more importantly for your heart, February is designated as American Heart Month. Tragically, more than 600,000 Americans die of heart disease annually, making it the leading cause of death for both men and women in the United States. This month kickstart a healthy diet plan to prevent heart disease for you and those you care for.
What better way to show your affection for those you love than with a good meal? As a caregiver, choosing heart-healthy options for your loved one is the perfect way share the love of good health this month. And an added benefit is what is good for the heart is also good for your parent's aging brain. Add these smart foods to your daily diet and help maintain a healthy heart and head.
Fresh Fruit.
Keep snacks healthy with fresh fruit.  Berries are rich in heart-healthy phytonutrients and soluble fiber. Researchers found that blueberries can help protect the brain from oxidative stress and may help lessen the effects of age-related conditions, such as dementia. Add fresh berries to low-fat yogurt or cereal for a vitamin boost in the morning or eat washed berries from the carton. Fruits such as oranges, cantaloupes, and papaya are jam-packed with beta-carotene, potassium, magnesium, and fiber.  Freeze fruit slices and berries for your smoothie to add an extra vitamin punch and to chill down your blend.
Crispy Veggies. 
Add crisp vegetables as a side to any meal or to top off a salad.  Red, yellow, and orange vegetables are packed with carotenoids, fiber, and vitamins.  Add red peppers to a stir-fry or use sweet potatoes or acorn squash to bring a burst of color to your plate. Ripe tomatoes provide alpha and beta-carotene, and sun-dried varieties are available during the winter months. Fresh broccoli florets are great with low-fat dip or hummus as a heart-healthy snack filled with vitamin C, potassium, calcium, and fiber. And up your salad game with kale, instead of iceberg.  Considered a "superfood," kale is a powerful antioxidant. It's an anti-inflammatory and creates building blocks for specific neurotransmitters and minerals to boost brain health.
Go Nuts.  
Nuts can be a part of heart-healthy and brain-healthy diet if eaten in the appropriate proportions.  Although high in calories, nuts are packed with protein and are a satisfying snack to have on hand.  Nuts are beneficial in two ways to your health.  Nuts, such as almonds and walnuts, can lower your "bad" cholesterol levels (low-density lipoprotein or LDL).  Second, inflammation has been linked to heart disease, and nuts can reduce levels of inflammation. Also, nuts are an excellent source of vitamin E that can lessen cognitive decline as we age. Learn how to incorporate nuts into a heart-healthy diet.
Indulge in Dark Chocolate. 
Dark chocolate has received a lot of good press over the last few years. The reason is due to the cocoa bean being rich in flavonoids, compounds in unsweetened chocolate that cause dilation of the blood vessels.  Besides the potent antioxidant properties, dark chocolate contains several natural stimulants, including caffeine, which enhance concentration.  And dark chocolate can stimulate the production of endorphins to improve mood. This Valentine's Day, indulge in dark chocolate-dipped strawberries and get a double dose of vitamins and antioxidants. But before you grab the chocolate bar, make sure it is at least 70% cocoa.  You want to consume chocolate with the lowest amount of sugar and the highest amount of cocoa.
One Fish, Two Fish. 
The American Heart Association recommends eating a serving of fish at least two times per week, particularly fatty fish like salmon, trout, sardines, tuna, and mackerel which are loaded with Omega-3 fatty acids.  Omega-3 is a healthy form of fatty acids that helps prevent dangerous heart rhythms that could lead to heart attack and is essential for brain function.
To find heart-healthy recipes that also benefit brain function, visit the American Heart Association collection of healthy recipes.  Plan a 3-course meal for your spouse for Valentines Day or whip up a healthy dinner for your family using these recipe ideas.  These dishes will not only tempt their taste buds, but also help maintain brain function, keep weight down, reduce blood pressure, and boost energy.
Visit the Aegis Living community near you and ask about the nutritious and delicious culinary menu we provide for our residents and their families.