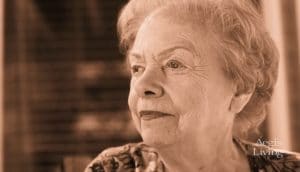 In denial, we find our comfortable place—where nothing is changing, and the alarm bells are silent. But denial is only a coping mechanism to avoid an uncomfortable or stressful situation. Denial is why a parent believes they can live on their own when they are clearly endangering themselves. Denial is how a sibling evades the responsibility of caregiving or delays getting assistance because they can convince themselves that mom's health is not that bad. Or it's your unconscious way of dodging the facts and ducking the truth of your parent's declining health and mortality. Denial is easy to fall into because it makes you feel better temporarily. But denial won't stop, fix, or change what is undoubtedly happening to your parent and their mental decline.
According to the Dementia Whisperer, Laura Wayman, dementia denial is a survival mechanism for caregivers. "Dementia denial kicks in when there is something horrendous that our mind cannot wrap itself around or figure out," Wayman says. As a caregiver, the best way to handle denial is to become "dementia aware" and educate yourself to best care for your parent.
For You. Denial is a delay tactic. It may buy you a little time to confront what you don't want to see or believe is happening to your parent. But if your parent has dementia or suffers from early symptoms of memory loss, you need to act now to avoid serious consequences that can face your family down the road. You need to move quickly out of a place of denial and into acceptance.
It is crucial for you to be an advocate for your parent. Get them the medical attention they need, manage their symptoms, and find experts in your community who can help. Plan ahead and research local memory care communities that are better equipped to meet their unique needs—perhaps not now, but they will need more help as their dementia progresses. As their advocate, you will need to step in and make decisions on their behalf. Dementia denial can impede getting the help that your parent needs.
If your parent's memory is failing, it is time to get things in order while they still may be able to participate. Collect legal paperwork, organize their finances, and determine where they might live when they are no longer capable on their own. An action plan will make you feel more in control and less likely to slip into denial.
For Your Siblings. We have seen this often in many families where one or more siblings may be slower to face the truth about a parent's mental decline. Perhaps they recently visited your mom on a good day, and she was okay. Or they know there are issues but don't think professional help is necessary. Dementia brings not only confusion to the person suffering, but it can be confusing to those around them. Families can feel helpless as their parent drifts further from reality.
Be patient and gentle with your family members in denial. They may not want to face the facts. Don't use sarcasm, anger, or accusations when talking to your family, which may force them to resist more and dig in deeper. Education and dementia awareness is a substantial first step. Share information from a trusted source, like the Alzheimer's Association, or bring your sibling along to a medical appointment with your parent's physician. If you are thinking of moving your parent into a memory care community, the staff is familiar with family issues and can serve as an impartial expert to help educate and reassure your family members.
For Your Parent. Your mom or dad may be in denial of their own limitations—both physically and mentally. Your parent may feel embarrassed or ashamed to be a burden on their children. Pride, combined with denial, can make them stubborn to ask for help or receive assistance. Fear and powerlessness can spring from recognized signs of memory loss or a diagnosis. Seniors may suffer from depression which can cloud their judgment and lead to denial. Denial can also be a coping mechanism to hold on to their sense of self and identity. This mix of emotions can be a strong reason to give into the relief that comes with denial.
We understand there is comfort in denial, but that does not change or stop the progression of dementia. Find confidence through education and move into acceptance to get your parent the help and care they need. These are a few tips to help you cope with your feelings of denial:
This is a healthy way to not only express your fears but to track and document changes in your loved one. Subtle changes over time may go unnoticed. By keeping a log of incidents, you will find their health issues more difficult to deny.
Find a friend. Find a friend who you can confide in. Someone from the outside may offer a more objective opinion about a situation. They may be able to point out your denial.
Educate yourself. Become dementia aware, education and research can empower you and your family to understand the sign and symptoms of dementia sooner. It's not pleasant to have to face, but you can make your parent more comfortable with early intervention.
Support group. You may find comfort in the fact that you are not alone. A good support group can help you better cope and face the situation.
At Aegis Living, our memory care communities are expertly staffed with caregivers specially-trained to handle the unique challenges that come with dementia. Our round-the-clock care staff provides families with the peace of mind that their loved one is safe and secure. Our amenities and décor create a warm, welcoming home for your loved one. Visit an Aegis Living memory care community to find out how we can help your parent.