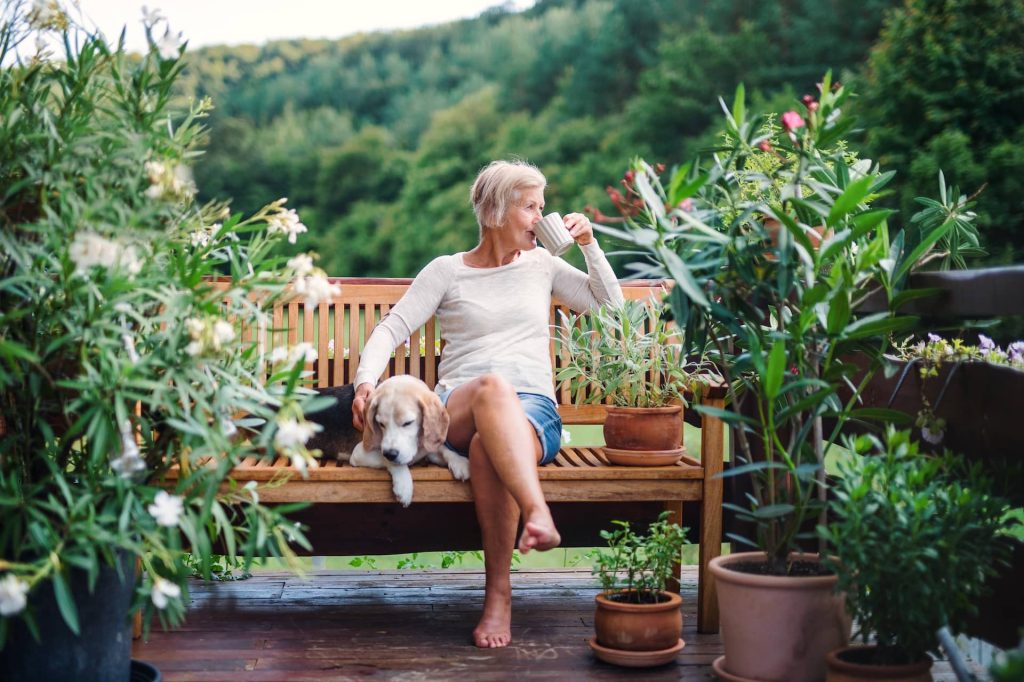 Healthy and creative tips to ensure your loved one is safe, and you practice self-care while caregiving at home.
If you are a primary caregiver caring for an elderly loved one, you may be confined to your home while your family practices social distancing. Here are some healthy ways to ensure you and loved one are safe and cared for. We hope our practices will help your family create a plan for your own home.
Health and Wellness
Stay Connected
In addition to stocking up the pantry and frequently washing your hands, you will want to limit visitors to your home. Not being able to see your parent or loved ones in person can be difficult for other family members. Try using FaceTime to see each other or call often so you can hear their voice. Take photos of your parent or make a short video and share with your family in a group email or text message. This connection will reassure others while keeping your loved one protected. And as a caregiver, you need the support of your family and friends as well. Take breaks in your day to reach out to others on the phone or via email.
Good Nutrition
Our culinary team has been hard at work, providing immune-boosting and nourishing foods and drinks to our residents. We added a new bone broth soup to the menu, and we are encouraging residents to drink our signature ginger tea. Food can be a source of both comfort and prevention. Serve healthy meals and make sure your loved one is staying hydrated for optimal health.
Fruits and vegetables are essential to a healthy diet. Because you are not frequenting the grocery store as often, you may not be able to get fresh fruits and vegetables weekly. We suggest that you stock your freezer with plenty of frozen or keep canned fruits and vegetables on hand. You may want to make a large pot of soup loaded with fresh greens to freeze for future meals. Berries, bananas, and peaches can be frozen and used for smoothies. Dried fruit, such as raisins, prunes, apricots, and cranberries, are a great source of fiber, iron, and antioxidants, so add these sweet treats to salads or eat as an afternoon snack. Frozen spinach, broccoli, carrots, cauliflower, and green beans make a perfect side dish or can be combined with pasta or rice for a main dish.
According to the International Food Information Council, these items are recommended for a healthy pantry of long-lasting products:
Beans and legumes
Steel-cut oats
Canned fish
Nut butters
Brown rice, quinoa, and whole-wheat or bean pastas
High-fiber cereal
Dried fruit, popcorn, and dark chocolate
Canned vegetables
Water, shelf-stable milk, and coffee
And for your freezer, these items are recommended:
Fruits and vegetables
Meat and deli meat
Fresh seafood
Bread
Creative Ideas to Stay Engaged
As we practice physical distancing within our communities, our Life Enrichment teams are filling each day with planned activities and entertainment to be enjoyed within their apartments. While you are at home, keep your parent engaged with uplifting activities. Perhaps it's time to tackle that 1,000-piece puzzle, start to prepare the garden for spring, or read a forgotten book. Since you are already disinfecting surfaces, a deep spring cleaning might be a healthy distraction and give you a fresh outlook.
In the kitchen, have your loved one teach you and your kids how to make that favorite family dish, how to tackle a souffle, or try creating a new recipe with pantry staples. To keep your family meals interesting (especially if you have children at home too), try a themed dinner, like a make-it-yourself omelet or baked potato bar, brinner (breakfast for dinner), or an indoor picnic!
At our communities, our seniors are engaging in technology and using our Fire Tablets for trivia, Words with Friends, TED talks, Sudoku, exercise videos, and more. Right now, many museums, businesses, and organizations are offering creative, free online resources for you and your loved one to explore:
Free downloadable adult coloring books: 100 museums are offering free coloring books for download of their works of art. Break out the markers and colored pencils, and you can be a master artist too!
Visit a museum virtually: Explore Google Arts & Culture's Collection to take a museum tour online, including the British Museum in London, the Van Gogh Museum in Amsterdam, the Guggenheim in New York City, and hundreds more—2500 museums in total!
Visit the Georgia Aquarium virtually: Multiple webcams show beluga whales, African penguins, sea otters and more! And don't miss the zoo either with a lion webcam and giant panda.
Local libraries offer free audiobooks and eBooks, so download a classic, tuck into a romance, or find an intriguing mystery.
Listen to live music, poetry, choir, art, theater, and more! Find the daily lineup of streamed, free online events.
Try a free online meditation to soothe nerves.
You can even learn a language!
Caring for Yourself
If you are a concerned adult child who may need to step in to care for your parent, or are already a primary caregiver, looking after yourself and your health may be the most important piece of advice at this time. You can't be strong for others if you are not healthy yourself. Follow the guidelines given by professionals, and don't neglect your own health.
Here are a few tips to stay healthy and take care of yourself:
Don't Panic; Prepare. With the barrage of information and changes in the news, you can become easily overwhelmed. Make an action plan for your family. By taking steps to prepare for your family's needs, you will feel more in control.
Sleep. A good night's sleep should be a priority, so your body has time to rejuvenate. And a restful sleep will help you better manage your stress.
Eat Healthy. We are all tempted to soothe our stress with fattening comfort food, but a healthy diet will better prepare our bodies to fight off illness.
Exercise. Since most gyms are closed, lace up your shoes and take a walk or run in the neighborhood. The fresh air and endorphins will help manage your stress level.
Ask for Help. If you are at home with an elderly loved one, then you may need to rely on others for support. Ask for help if you need supplies or just a friend to share your concerns with.
Breathe Deep. Deep-breathing practices can be done at home with little to no equipment. Roll out your yoga mat or download a podcast to guide you through a restorative meditation. Or simply close your eyes and take a few deep breaths to calm your nerves.
Plan Ahead
At Aegis Living, we are taking measures to make sure that our staff is healthy. If you are the primary caregiver for your loved one and get sick yourself, we suggest that you have a contingency plan in place with your family. Who would be able to care for your loved one? Are they familiar with how to care for your parent—prescriptions, personal care, preferences? Do you have medical supplies on hand? Taking proactive steps to protect your loved one and plan for disruptions will help alleviate stress. The CDC offers some useful information on planning and preparing your household for the coronavirus. Check out the CDC recommendation for preparedness.
If you find yourself in a situation where you can no longer care for your elderly loved one it will help if you are prepared in advance. Contact your nearest Aegis Living community and speak with the Marketing Director for information about other care options for your loved one and to receive a Preparedness Kit. The kit will help you organize your state-required documentation so that you are ready if you need to make plans for your family member to move to an assisted living community for support.
We understand that you are nervous about the health of your elderly loved one. You are not alone. At Aegis Living, we know that preventative measures and preparation can reduce the risk of infection. But we also know, just as importantly, that keeping our residents happy and engaged will combat feelings of stress, anxiety, and depression. This is tough on everyone. But for those caring for the elderly, it can be especially difficult. We hope these ideas help your family find some comfort.
From our family to yours, be safe and healthy!