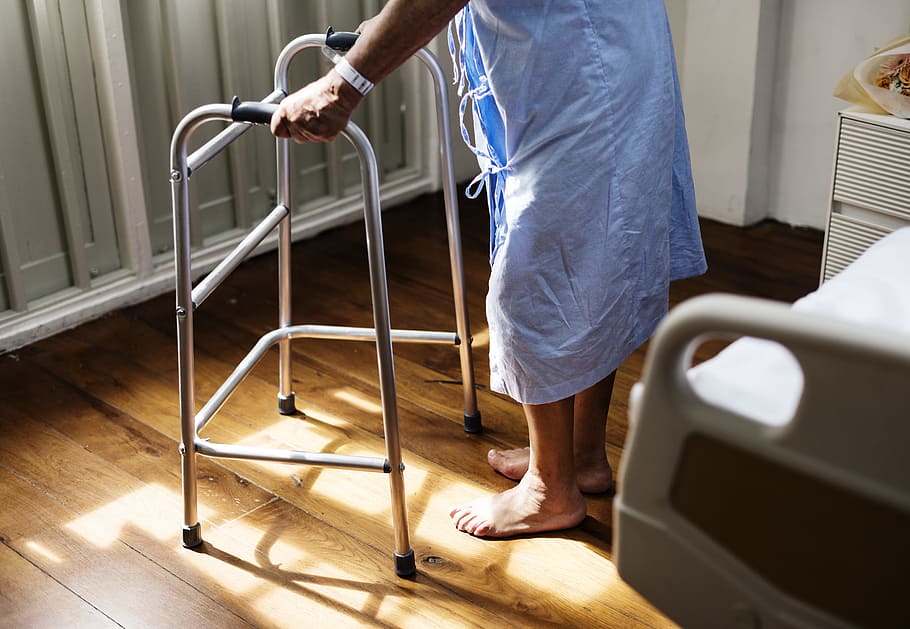 Having your elderly loved one or parent admitted to the hospital is stressful under normal conditions. During a pandemic, this situation can be particularly tense for families—especially if your loved one has dementia. To protect patients and staff, hospitals have restricted visits or, in some cases, stopped visitation altogether. When you cannot see your loved one face-to-face, how do you advocate for them when they are in the hospital?
If your parent or loved one cannot communicate their desires or needs, you are their voice. You can communicate their vulnerabilities, share your observations about their behavior, ask important questions, and convey critical facts to the medical professionals. You know your loved one best, so trust your gut when making decisions on their behalf. And be tenacious that their needs are being met.
Here are a few ways to advocate for your elderly loved one with dementia during their hospital stay and best partner with their care team.
Support Your Loved one with Dementia During Their Hospital Stay
In the United States, one in three caregivers take care of a parent or loved one with Alzheimer's or another form of dementia. Being in the hospital can cause behavioral issues, fear, anxiety, agitation, and more-than-normal confusion in older adults with cognitive impairment. And during the pandemic, these issues can be worse without a family member or caregiver by their side.
One Point of Contact. Within your family, designate one point of contact to communicate with the hospital. Hospitals and staff are taxed during the pandemic. Having a family spokesperson will streamline communication and avoid mixed messages. Request that your contact's name and phone number are written on the whiteboard in the patient's room and/or at the nurse's station.
Provide Documentation. Write down key points to help the care team get to know your loved one quickly. Provide documentation that includes their likes and dislikes, typical daily routine, and life history. Don't forget to include your concerns. Do they have difficulty chewing or swallowing? Can they feed themselves, or do they need help? Are they nonverbal? Can they follow complicated directions? Your insight is invaluable for their care team to provide the best care to your loved one. You may also consider providing a visible queue or badge for them to wear that alerts care teams of their needs.
Communicate Their Baseline. Help the hospital staff understand your loved one's "baseline." Prior to entering the hospital, what level were they functioning at? Communicating this functionality will help the care team differentiate between dementia, acute confusion, delirium, or something more serious.
Making the Rounds. Ask to take part in doctor's visits virtually or by phone, so you stay informed. Take notes during the visit to help you remember what the doctor said and to share with other family members.
The Essentials. Make sure your loved one has necessities like their hearing aid. With care staff wearing both a mask and face shield, it can sometimes be harder for the patient to hear. Also, don't forget their eyeglasses, reading glasses, or dentures, so they feel comfortable.
Comfort Items. In a new or unfamiliar situation, comforting items may help them feel more at home. A favorite pillow, blanket, or comfy robe may help them be more relaxed.
Smartphone or Tablet for Patient. If you cannot be by their bedside, communication will be essential. Drop off a smartphone loaded with family phone numbers or a tablet at the hospital for your loved one. We suggest that you include an extra-long power cord and place the device in a brightly colored case to avoid having it forgotten on a dinner tray or lost. If you do not have an extra device, inquire if there are devices for your loved one to borrow and if they can have assistance to make a call or connect virtually.
Clear Masks. During the pandemic, the use of both masks and face shields for protection means that dementia patients cannot see their nurse, doctor, or technician speak or smile. Not seeing these facial cues can make basic communication more difficult. Many hospitals have transparent masks, where the mouth is visible behind clear plastic. Ask if the hospital has these available.
Don't Forget to Take Care of Yourself!
A loved one in the hospital can be stressful, but don't forget to take care of yourself. You want to be there for them when they need you. Try to keep to your routine, eat healthy, get plenty of rest, and stay hydrated.
Remember that your parent or loved one is surrounded by professionals who have trained for years and have dedicated their lives to caring for the sick. During this unprecedented time in our history, doctors and nurses care deeply for the health of your family member and are taking added measures to keep them safe. They will be by your loved one's side if you cannot. And there are steps that you can take to be an advocate and involved in your loved one's healthcare, even if you cannot be there in person.
If your loved one or parent needs a place to recuperate after a hospital stay, Aegis Living can provide the care and support they need for a healthy recovery. Contact the nearest community for an in-person or virtual tour.