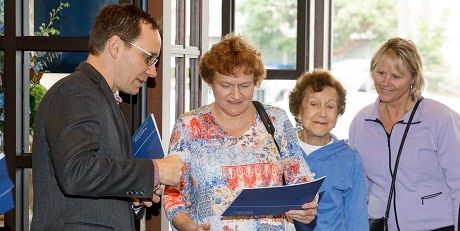 If the time has come for mom or dad to downsize to an apartment where they can receive extra help, assisted living is a wonderful next step.
Deciding to transition your parent into assisted living is emotional but asking the right questions will help whittle down the options to find the best new home for your parents.
Is the community aesthetically pleasing?
Shopping for a new home can be exciting, but nothing can cause more anxiety than the idea of living somewhere you're not comfortable. How do the visuals make you feel?
Is the lawn well-kept?
is the building tidy?
Are surfaces wiped down?
Do you see small touches that make it feel warm and inviting?
The care for little details in common spaces could be a good indication of how the community will care for your loved one. If it feels cold and unwelcome to you, it's probably not the best fit for your parent.How do you feel in the community?
How do you feel in the community?
While a sparkling new building might feel luxurious, it's people that can make an experience great. Finding a warm, welcoming community will help your parent transition into their new home.
Was someone there to greet you when you arrived?
Are the staff interacting with the residents?
Do they seem to be invested in the comfort and happiness of their residents?
Are the residents interacting with one another?
Do the residents look happy?
You'll know it's a good fit if you walk out feeling like you're part of a new family.
Enriching Activities
No one wants to imagine their parent spending their days staring blankly at TV screens or walls. A vibrant community with a full calendar of activities is a good sign that your loved one will be lively and socializing regularly! As you walk through the building, look for these things:
Is there energy in the building?
Do you see residents participating in activities like exercise, brain games, or art?
Is there a calendar of events listed so you can see what activities or outings are coming up?
Research has shown that seniors who live a socially active life have higher late-life satisfaction, making active communities vital to residents' health.
How do the residents look?
The physical appearance of the residents is important to note.
Do you see lively, engaged residents who look well-cared for?
Are they wearing appropriate clothing for common spaces or weather appropriate clothing if they're going on an excursion?
Residents who appear healthy and clean are a product of a great care team.
How's the food?
You'll notice that most assisted living communities don't have full kitchens in their apartments. Mealtimes are a wonderful opportunity to socialize, and ensures your parent will have three solid, nutritious meals per day. If you're able to join residents for a meal, look for the following:
Did the food look appetizing?
Did the menu have a good variety of options?
Was the dining room clean and set for a meal?
How did it taste?
Can they make concessions for dietary needs?
Additionally, feel free to ask how the community ensures your mom or dad stays hydrated. Dehydration is a common issue with seniors as their sense of thirst has diminished.
Is there transportation available?
Giving up a car can represent a loss of independence for many seniors, and you're not always available to be a chauffeur. Does the community provide transportation services to get to and from appointments, or even take your loved one to the store if they need to pick something up?
Security
A major benefit of moving a loved one to assisted living is security. Knowing someone can tend to their needs at any time of day can provide peace of mind for you and your family.
Is there a sign in/sign out system?
Are there handrails in the hallway?
Is there a working sprinkler system throughout the building?
Is there an emergency call system?
Are there wander guards on the door?
Security measures are particularly important for residents in memory care. As their cognition declines, there's a bigger risk of danger for seniors with memory decline if they wander somewhere that's not safe or into a completely unfamiliar area. Providing a safe space where care managers can monitor the residents and provide immediate assistance eliminates risks and potential harm.
How do the residents feel?
As you tour a community, stop and talk to some residents. (There's usually a self-proclaimed tour guide who will happily accompany you and chat as you tour!) Ask them what they love most about the community to get their honest opinion about their home. If some of the residents' family members are present, ask them what the best experience has been not just for their loved one, but for them as a family. They will be the community's best advocate and will give you the most honest feedback.
How's the staff?
The employees of a community will become your parent's surrogate family. You want to be sure the staff will be as loving to your parents as you are. Chat with some of the care managers as you tour:
How do they interact with you?
How do they interact with each other?
Are they friendly and engaging?
Do they seem interested in chatting with your parent?
If you walk away from a tour feeling confident that your parent will be well-loved in a community, it's a good sign.
What's the cost?
Understanding the costs associated with the community will help you narrow down your options. Assisted living communities charge for services in one of three ways—care points, care levels, or all inclusive.
Will your loved one's needs be covered?
What does it mean if they need more assistance?
What if you're paying for more than you need?
Don't be afraid to drop in for a tour. It will give you a good sense of how the community regularly operates, without the advanced warning of your arrival. If the community holds public events, attend one to see how they engage the neighborhood and residents.
Aegis Living communities are available to show you around anytime! Stay for a meal or a cup of coffee, sit in on a class, or mingle with staff and residents. We are happy to answer all your questions.