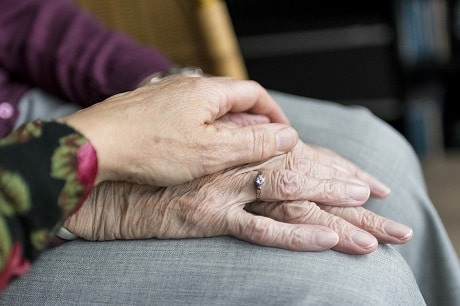 Elder care today is not a simple equation of getting a diagnosis and scheduling treatment. It is more about having a quality of life discussion and how treatment might tip the balance—negatively or positively. Most of us are woefully unprepared to face end-of-life decisions—either for ourselves or for our family. Improvements in medicine, treatments, and technology means that seniors are living longer lives. Because of their advanced years and physical condition, many seniors have multiple diagnoses, a tray filled with medications, juggling different side effects, various therapies, and frailty.
If your elderly father is diagnosed with cancer an oncologist might prescribe radiation and chemotherapy to help prolong his life. At his advanced age, these treatments may negatively impact his quality of life. A care plan, such as this, might mean time in the hospital, recovery, pain, fatigue, discomfort, and nausea. Intervention might cost him valuable time that he could spend with his family or doing something that he loves to do—like taking that trip that he has put off. And often, there is no guarantee it will prolong his life or that he will survive the treatment. Most importantly, what will it leave for his quality of life? These are important issues—the benefits and the risks—to weigh and discuss openly as a family.
This scenario in no way advocates whether to undergo a treatment plan or not. It shows the importance of having a discussion that is open and honest about quality of life when facing an end-of-life decision. Your father's priority may not be to live longer but live better and on his terms. The information and understanding that he has about his life should be how you make the best medical decision with him or for him. Because this is a difficult conversation to have, many families miss this step.
Questions to ask about end of life preferences:
What do you understand about your health?
Do you understand the benefits and the risks of a care plan?
How do you want to live out your life?
What is the best outcome as you look at the end of your life?
What are your fears?
Do you have goals?
What do you value, or what gives your life meaning and purpose?
How would you like to spend your remaining time?
Where would you ideally like to be? At home? In a hospital? In a care facility/hospice?
Whatever your parent expresses as their priority should be honored as you make important decisions together. If they are very social or love to be surrounded by family, then a treatment that leaves them too fatigued and unable to communicate may not be a good outcome. Perhaps they want to see a final season of their favorite baseball team or spend the next holiday with their family as a goal; they might be unable to do these things if they cannot get out of bed or are in the hospital. And sometimes, their quality of life standards are even simpler—reading the morning newspaper, talking to grandchildren, or enjoying a favorite chocolate chip ice cream? Everyone's life is different, and no assumptions should be made. Lifelong experiences may bring them to a decision different than you wish in their final phase of life.
These are not easy decisions, and there are no guarantees. You need to partner with their physician and medical team to ask direct questions about the risks and potential outcomes of a treatment. And make sure you and your family are satisfied that your questions have been sufficiently answered. Will treatment take away their ability to do something that they want to do? Will a treatment extend their life? At what cost? These factors should be part of a thoughtful decision that you make about care options in partnership with their doctors. What matters to your parent and their care options should be connected.
If a treatment won't save their life, hospice or palliative care can help their quality of life. Medical intervention may not be the best decision for your parent. Hospice can redirect the focus to pain control, safety, or improved strength to live out their life comfortably. Hospice may allow a patient to say what they want to say and connect with the family in the time that they have remaining.
Prevent leaving difficult decisions to your family at the end of your life?
End-of-life decision making is overwhelming. When you come to the end of your life, what is your priority? This is an evolving discussion that we need to have with our spouse or loved ones. If someone else must make the decision on your behalf at the end, do you think they truly know your intentions?
The discussion needs to expand beyond "should you be resuscitated?" to include a real understanding of how you want to live. Advanced directives are useful to have in place, but your family should understand your goals. And these documents often fall short of that. Some doctors are making the argument that a living will is not enough information for a family to make these challenging decisions. Also, you may feel one way at 40 years old with dependent children; then you might at 90 years old facing the last phase of your life. In the end, both you and your family will find comfort in following your wishes—so have the discussion, document and update your intentions, and don't leave these important decisions to fate.
At Aegis Living, we care about the health and wellbeing of all seniors. We want every senior to be honored and treated with dignity. Tour a community today to see how we support residents with communities designed to meet their changing needs.