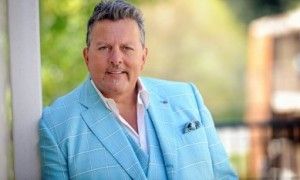 Aegis Living is a leader in the world of assisted living, thanks to decades of dedication providing seniors with comfort, security and memory care. While it stands at the forefront of senior care today, Aegis Living has humble beginnings that date to 1997, when Dwayne J. Clark, founder and chief executive officer, set out to challenge the subpar standards of senior care.
---
Growing up
Dwayne was the youngest of four children. His mother, Colleen, was a British citizen who, while living in India, married a World War II soldier. After the war, they moved to Kennewick, Washington. Dwayne's father was largely absent when his mother filed for divorce and relocated to Lewiston when Dwayne was in the second grade. For much of his childhood he was raised by a single mother struggling to provide for her kids on low wages.
This could have ended up being a story of misfortune and despair, but he was lucky to have as a mother an inspirational woman who taught him that he could do anything he set his mind to. Though the family was by no means wealthy, she encouraged him to pursue his dreams. As Dwayne explained to Seattle Business magazine, she had an uplifting way of putting life into perspective and instilling confidence.
"We were dirt poor – she worked as a short-order cook – but she would say things like, 'We're just like the Kennedys. We're Catholic and they're Catholic. We're Irish and they're Irish.' It took the mystique out of it," Clark said.
Finding inspiration
Well before founding Aegis Living, Dwayne dreamed of making big changes in senior care. As a boy, he would visit his grandmother at her nursing home, a bleak place that treated seniors as second-class citizens. These elderly men and women would stare out the window, somber and silent as though they were waiting for an end. In his book, "My Mother, My Son," Clark reveals some of the appalling conditions of this nursing home.
"Many residents were physically bound to their beds," Clark wrote. "Some cried softly while others wailed at the top of their lungs, backs arching off their mattresses. The most horrific were those that lay silent, staring out the door. I'd catch their stares and see confusion or panic in their eyes, and I'd quickly look away … I have no doubt that my exposure to these residents had a profound effect on me."
When he grew into a young man, Dwayne began working at an assisted living community. He found the same old situation: The residents were dismal and dreary and he quickly realized that at that time, senior care was more about real estate and profits than helping the elderly live their lives to the fullest.
He dreamed of shining some light and happiness into their lives. The company discouraged his ambition, but Dwayne continued to aspire for more for these residents. Through the years, he would write down his innovative plans for providing comfort, hope and satisfaction to the lives of seniors – ideas that would eventually become part of the care plan at Aegis Living communities.
Creating an assisted living legacy
Dwayne's past experiences with the old-fashioned assisted living community inspired his unwavering dedication to redefine the industry. As an adult, he served as executive vice president for Sunrise Senior Living. However, his real goal was to start an organization of his own with a new company culture focused on satisfaction – a place where his own mother would enjoy living.
Dwayne did his studying before taking on the endeavor. He analyzed the business models of companies known for innovation, from Starbucks to Nordstrom, and applied his own passion and experience in assisted living to start Aegis Living. Together with his partner Bill Gallaher, he raised $22.5 million from friends and family members and opened an office in Redmond, Washington, in 1997. It was a tiny spot located above an ice cream parlor, and the company had only seven employees, but by the next year, the first Aegis Living community opened in Pleasant Hill, California, and the staff grew to 145.
Each year, Dwayne continued to open more communities throughout California, Washington and Nevada. By 2011, the company employed more than 1700 people and was earning hundreds of millions in revenue. But money was never the focus, and Dwayne sacrificed profit for the better of Aegis residents when he ended a contract with outside management to focus on owner-operated communities.
Today, there are over 30 Aegis Living communities, each employing compassionate, caring people who strive to improve the quality of life for residents. And as Dwayne J. Clark always dreamed, these communities provide not only a safe, comfortable place to live but also a beacon of hope to thousands of seniors.