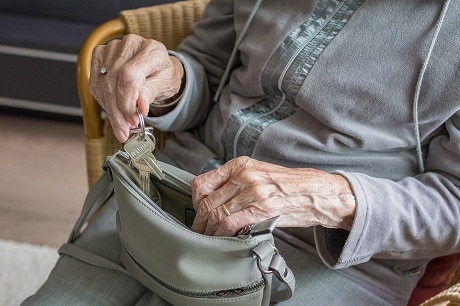 Have you driven with your parent lately? Maybe you've noticed they're having troubles with changing lanes, or their reaction time has slowed. Are there are scrapes and dents on the car that hadn't been there before? Perhaps they've forgotten a route home they've driven for the last thirty years. These are tell-tale signs that your parent or loved one is having difficulty driving.
We're eager to get our licenses as teens for the same reason we're afraid to have them taken away—driving represents mobility and independence. If you are concerned about the safety of your loved one (and other drivers) while they're behind the wheel, it's best to approach the conversation with sensitivity instead of frustration.
'The Talk'
As we age and experience vision loss, hearing loss, or memory loss, it puts us at risk for accidents. Some seniors will self-correct by not driving at night, during inclement weather, or by avoiding the freeway. Applaud their effort to be safe on the road, and ask them how they feel driving at other times. Their answer may help you transition into 'the talk.'
'The talk' is best facilitated by one person. Multiple parties will seem like you're ganging up on your loved one. Focus on discussing solutions, so they know it's not an attempt to take away any autonomy they have.
Recommendations:
If your parent hasn't self-corrected, suggest they only drive during the day, and avoid driving during rush hour or bad weather. If they have trouble seeing or hearing, they probably won't object to staying off the road when the stakes are higher.
Present alternate methods of transportation. In the age of Uber and Lyft, it's easy for everyone to get where they need to go. Some seniors are mobile-savvy, so showing them how to use these apps will help show them they can get to where they need to be without trouble. If they're not using a smartphone, or struggle with apps, program the number for a local taxi company in their phone.
If your loved one is living with memory loss, traveling without a companion could be challenging if they forget where they're going or how to get there. Several programs will help your loved one get around, like shuttles, and volunteer transportation. Here are some handy links to find transportation services in your area:
When you are available to transport your loved one, let them know what times work best for you? If they prefer to do their grocery runs on Sunday, make a day of it! Or you can call a good friend or another relative to make the trip with them.
Remember to practice patience and give your parent or spouse time to come to terms with these changes to their lifestyle.
Alternative Options
Hide or "lose" the car keys.
Hiding the keys is best to do when they're sleeping or perhaps out of the house without their car. Help them look for the keys, and when you can't 'find' them, offer to get a new set, but let them know it might take time. That will buy you time to show them they don't need a car.
Take the car for "repairs."
If you're driving with your loved one, you can note an issue you see with the car and volunteer to take it to the shop for them. You can blame long waits on parts, or let them know the mechanic has deemed the vehicle unfixable.
Have a friend or relative "borrow" the car.
Out of sight, out of mind? Create a cover story to get the car away from your loved one. They might get used to alternate transportation and willing to entertain the idea of giving up the keys.
Anonymously report them to the DMV.
Worst case scenario—you can report your loved one to the DMV anonymously. The DMV may call them in to retake a driving test, and will handle the rest from there.
Though it may be challenging to take something from someone you love, you're acting with the best intentions. Don't feel guilty! Their safety and the safety of others is the top priority. If you're having trouble starting the conversation, we can help! Contact one of our expert staff for advice on having this tough conversation.