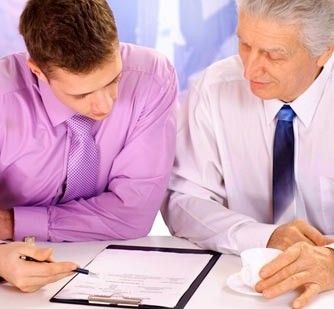 Taking the time to have an honest conversation with your parent about power of attorney and other legal matters is important for the future for many reasons. Legal planning is highly advisable for people with dementia because many seniors who suffer from cognitive decline will experience difficulties with memory, intellect and decision making, all of which are crucial for financial issues.
---
When you and your loved one should speak to a lawyer
Once a doctor gives a dementia diagnoses to your loved one, the beginning stages of legal planning should begin, and that includes finding a competent lawyer who understands the parameters of power of attorney in your state. The Alzheimer's Association states that the sooner these meetings begin after the diagnosis, the more involved your loved on can be in the financial planning and future.
A few of the basic topics that you will need to discuss with an attorney include making plans for long-term health care coverage, how the family will handle future finances and property matters and naming a power of attorney so that a caregiver can make decisions related to your loved one's well-being once they are no longer able to do so.
Choosing the right attorney
Choosing a lawyer to guide you through these steps is crucial. The decisions that you and your loved one make together need subject matter expertise, so hiring just any lawyer might not be the best way to go. The needs of someone struggling with dementia or cognitive decline are unique and require experience in the field.
Fortunately, there are several organizations that can steer you in the right direction with your mother's needs as she ages, including the National Academy of Elder Law Attorneys. These types of lawyers address several issues that pertain directly to power of attorney and several other legal matters that you and your mother may face, including assisted living care, public and private finances (including Medicare and Medicaid and veteran's benefits) that will cover the cost of your mother's future health care, your mother's right to quality care, estate planning and future finances. If you already have a family lawyer, he or she can also direct you to an attorney who specializes in elder law.
While it's true that you can complete certain legal documents pertaining to your mother's health and well-being on your own, getting advice from someone in the field could be an excellent way to ensure that all of these minute details are ironed out from the beginning.
What to bring to the attorney's office
Although every state's power of attorney laws are different, there are certain documents that you will want to bring to the elder law attorney's office no matter where you reside. According to the Alzheimer's Association, these include:
Copies of real estate deeds
Copies of your loved one's most recent tax returns
Benefits booklets and health insurance policies
Any admission agreements issued by your mother's health care facilities
Life insurance policies and documents that show the cash value of said policies
Copies that show former powers of attorney, trusts, wills and estate planning documents
An itemized list of your mother's assets, including contents of safe deposit boxes, real estate ownership documents, bank accounts, vehicle registration. You will also need to show documents that prove their current value and the names of the owners, beneficiaries and account holders.
Other tips
The Alzheimer's Association also suggested several tips that you may want to keep in mind when you and your mother visit an elder law attorney, including:
Have a copy of and access to the original power of attorney document if you are your mother's agent.
Speak with your attorney about a successor (or back-up) power of attorney in the event that you are unable to perform these duties. In this case, it is wise to choose a neutral third person.
If your attorney has been trusted in the family, consider having them help manage your mother's financial affairs alongside you for better knowledge and wisdom.
If you are meeting with an attorney to sign a power of attorney health care document, be sure that you provide a copy to your mother's doctor and health care insurance providers so that they too understand who to speak to in the future regarding your mother's health needs.
Additional help
To get started, you will need sufficient resources to find the right attorney that understands your mother's needs. There are several ways you can do this, including contacting your local Alzheimer's Association chapter in person or using their online community resource finder. The National Academy of Elder Law Attorneys also has a convenient online directory that can help you locate an elder law attorney near your mother's home. Eldercare Locator is another great public assistance resource that can be contacted by visiting their website or calling 1-800-677-1116.
Finding a viable attorney for your mother's future financial and health care needs is ideal if you want to plan out the next phase of her life successfully and peacefully.