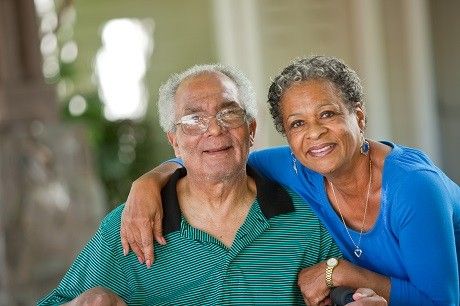 Father's Day celebrations may be a little different this year due to the coronavirus. Families need to be careful with their elderly parents, who are particularly vulnerable. Social distancing is still strongly suggested to keep them safe. Spending some face-to-face quality time with your pop may take some creativity, but that's what will make it memorable! The best way to show you care may be from afar, but it doesn't have to be any less heartfelt. Father's Day is a day to show your dad how much you love and appreciate him. Pull out all the stops!
Ideas for Dad at an Assisted Living Community
If your father is in an assisted living community, we have a few ideas to make his celebration special while you stay at a safe distance. Because this coronavirus situation is fluid, we suggest that you follow the guidelines of your father's assisted living community to best keep your loved one safe, as well as the other residents. Also, see what his Life Enrichment team has planned for Father's Day. We suggest that you plan your celebration between community planned activities, so he doesn't miss anything, and your family can help him make the most of his day.
Bake him a box of his yummy favorites! Does dad swoon over your banana muffins, chocolate chip cookies, or homemade fudge? Whip up a special batch of yummy treats and send him a box of homemade love, include colorful napkins, cards, and drawings from his grandchildren. Every time he takes a bite, he will be reminded of family!
Send him a little comfort. Wrap him in a virtual hug with a Rumpl blanket! Whether he needs a cozy blanket on a chilly summer evening or to enjoy his morning coffee on the patio, this blanket is lightweight yet warm. And it is machine washable, so dad doesn't need to be too precious about it. Priced just under $75 and shipped directly from Amazon!
Build a Lego kit! Does your dad have a whole lot of patience?Does he love a good puzzle and Star Wars? Send him an epic challenge with a Lego project. Maybe purchase two kits—one for him and one for his grandchild, so they can build virtually together and see each other's progress through photos and video! There are hundreds of kits to fit his personality and skill set from architecture to an expert level Volkswagen Camper Van with over 1000 pieces!
For the dapper dad. He can show a little flair in his footwear. Sock Fancy is a monthly subscription of socks to add color to his distinctive style. For just $12 per month, you can get a patterned pair sent directly to him. What a fun accessory to look forward to!
For the party animal! Don't let the day pass by without a video chat on Zoom, Skype, or FaceTime from the entire family. Liven up the chat with fun hats, sharing old photos, playing games, or sharing family stories. You can also pre-record a video to send to him via email. The party can still go on virtually!
Ideas for Dad at Home
If you are caring for your dad at home, you may be looking for a few ideas to show you care and uniquely celebrate Father's Day. The following ideas are activities that you can do close to home and safely.
Go fly a kite. No really! Purchase a kite kit and build a kite. This is a great project with grandchildren and a wonderful way to look forward to the next breezy day for your kite to lift off. You are never too old to play! And kite creation has come a long way with a variety of styles and interests. You can soar like an eagle or swim through the clouds like a whale on the hunt.
Fire up the grill. Father's Day is a great time to break out the steaks or burgers for dinner al fresco. Make a special Father's Day spice rub to heat up the holiday grilling. If he likes it spicy, sweet, or garlicky, there is a recipe for every taste bud!
Take the long way home. Enjoy the beauty of nature, pack a picnic, and take a scenic drive together. Find a place in the mountains or along the water or river, so that he can enjoy the sunshine, surrounding trees, and sights passing by. Play his favorite tunes to sing along to while you drive, and frequently stop to smell the fresh air and take photos of your adventure.
Enjoy an online activity together. The best gift is to spend time with your dad. Is there a place that he would like to visit or to see again? Take a virtual tour of the Guggenheim Museum in New York, the Van Gogh Museum in Amsterdam, or the British Museum in London. Or discover (or rediscover) some of our temporarily closed National Parks, like Yellowstone or Carlsbad Caverns National Park. Together, you can even visit the baboons at the San Diego Zoo. What a wonderful way to spark some memories!
Audible book subscription. For as little as $14.95 per month, you can purchase your father a subscription to Audible to receive a credit for a new audiobook every month that can be canceled at any time. If your dad has trouble reading due to poor eyesight, audiobooks can bring him hours of entertainment!
Everyone wants to feel healthy and strong. Give your dad a juicing machine for Father's Day. Summer is the perfect time to select fresh fruit from the farmer's market or pick fresh fruit grown in your own backyard. Juicers are available at most major retailers and come in a range of price points. Experiment with a variety of fruits and veggies for a potent mix of vitamins in flavors that he will love!
Lawn games in the sunshine! Jenga, anyone? These large-sized lawn games are great for anyone from 8 to 80 years old. If your dad has a competitive streak or just loves to play games with the family, these games are a great way to bring more entertainment in your backyard. And the variety of games from giant dominoes to connect four means there is a game available that he will enjoy.
At Aegis Living, we want to wish all the lovable fathers a day of celebration where you are honored! From our residents to our staff, we are surrounded by caring dads whose dad-jokes and smiles makes our days brighter and our lives better. Have a wonderful and very happy Father's Day!