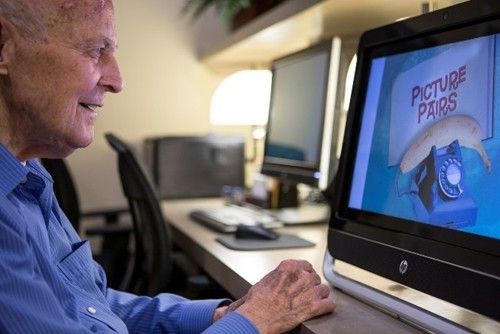 While traditional assisted living communities focus on keeping seniors physically healthy, Aegis Living commits itself not only to helping those with Alzheimer's feel safe and comfortable and find meaning in the later years of life but also to improving cognitive function. Aegis communities implement a variety of tactics for enhancing brain function, from mind-healthy diet plans to daily games that stimulate gray matter. Seattle's Aegis Living Madison community even has its own Brain Exercise Center, a space for working out one's brain much like one would exercise their muscles.
How does the Brain Exercise Center work?
The aim of the Brain Exercise Center is to keep the mind strong, healthy and sharp. It utilizes technology – software and brain-stimulating programs clinically proven to enhance memory retention in those who stick to the curriculum. As Madison's general manager explained in an interview, it utilized two main elements: Dakim and Saido, both of which have a neuroscience basis. Each aims to increase brain neuroplasticity and the mind's ability to process new information as well as the speed at which it works. It's about recall, and though the results have been anecdotal, those who utilize the software on a regular basis seem to maintain their sharpness.
More about Dakim
Dakim BrainFitness is a computerized system that was developed in the U.S. and geared toward improving the elderly brain. It focuses on improving cognitive function in two essential areas: memory retention and language ability. Seniors complete a series of web-based brain exercises – intellectually-challenging brain games of more than 100 different types and thousands of individual exercises that incorporate music, video, graphics and a Boomer-focused sense of humor. They focus on a range of skills, including language, problem-solving visual spatial processing, calculation and both short- and long-term memory. Among the many benefits Dakim can provide are the abilities to:
More easily remember facts, names and faces
Conduct complex calculations in one's head
More rapidly organize one's thoughts
Process a larger number of thoughts and ideas at one time
Evaluate data and make decisions is less time
The positive effects of the Dakim program have been tested and proven in a clinical setting. Researchers at the University of California, Los Angeles, School of Medicine conducted a study that looked into how these computerized exercises affect the Alzheimer's brain. The study involved 84 participants from retirement communities in Southern California, half of which completed 40 sessions of the Dakim training program within a two-month period. The other half was the control group and put on a waiting list to partake in the BrainFitness program. Neuropsychological testing at the end of this period showed that those who engaged in the exercises for two months had significantly improved delayed memory time, immediate memory and language skills.
More about Saido
Developed in Japan by the Kumon Institute of Education, Saido is a system of reading, writing and basic math that helps secure "working memory" in the prefrontal cortex. It has been successfully used for more than a dozen years at assisted living communities throughout Japan, working to reverse and slow dementia. It engages participants in simple yet precise exercises that stimulate the frontal lobe and, in effect, improve the learner's ability to retain new memories.
The three-part program at Aegis Living Madison is based on this clinically tested system. The triad of components are geared toward the Alzheimer's brain and consist of:
Reading: Any out-loud reading at whatever level of proficiency the senior is at, generally involving fun or inspirational quotes relative to the day
Writing: Hand-written print in the form of a post card to a loved on or simply a journal entry – the staff generate questions about seniors' thoughts to give them inspiration to write, such as "What are the best memories you've had in travel? What makes you smile the most?"
Math: The math problems are generally not harder than a second-grade level, and the focus in not about getting the answer right but rather about going through the mental process of trying to find the solution.
When done on a regular and continuous basis, these exercises have yielded excellent results. As far as the math problems, the act of solving an equation stimulates the memory to recall the proper way to come to the correct answer.
"Everyone has gone through at least some basic schooling, and if that recall is still in their brain, then we have a positive connection with some historic memories that allows for the brain to start saying, 'Oh wait a second, I remember this,' and start revving up. It affects the working memory – memory that has some history to it – that then seems to have a positive overlay on the overall brain functioning in different areas. It starts in one area and has a positive impact on more parts of the brain."
Getting seniors motivated
The Brain Exercise Center is open to all seniors on a voluntary basis – no one is required to complete the brain-boosting programs. However, the staff at Aegis Living encourage residents to take an active role in maintaining cognitive function and reward those who do: Seniors who complete the brain fitness program receive $50 of Mad Money, a form of currency that residents can use to purchase items at Aegis Living. For example, the Seattle location held a live, on-site auction with a real auctioneer, and seniors were able to bid on and purchase items with their Mad Money.
Other Aegis Living initiatives for brain health
At Aegis Living, brain exercise is paramount. The staff work with experienced cognitive health experts to help seniors their gray matter supple, healthy and active. The Brain Exercise Center is part of this effort, but there's much more to the brain fitness initiative. Along with keeping the heart working at top capacity through hydration and healthy eating, these communities encourage other brain-boosting activities, such as social interaction through clubs, hobbies and other personal interests as well as the pursuit of life goals for greater fulfillment and mental stimulation.