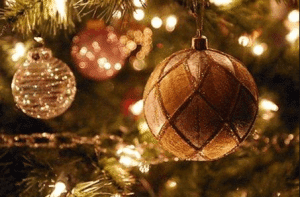 The holidays can be stressful during the best of times, but layer on the responsibilities of caring for a loved with Alzheimer's or another form of dementia and your holiday season can be quickly overwhelming. Don't lose the magic of the holiday season, but take some steps to plan for yourself and the loved one who you are caring for. You can find joy this holiday season by adapting and celebrating together.
You can say no. You simply cannot do it all. Give yourself permission to limit how you will spend your time this holiday season. Let someone else host and enjoy their hospitality. Bake fewer cookies, simplify your decorations, and buy few gifts. If you focus on what is most important, you will enjoy those activities much more.
Inform out of town visitors. Your loved one's behavior may be changing. Inform your visitors, who have not seen them recently, what to expect. Let them know that they may no longer recognize them. Setting these expectations before they arrive can relieve the stress and anticipation for you and them.
Choose the time of day that is best. Many people living with Alzheimer's become more uncomfortable and agitated in the evening due to sundowning. Suggest that family meals be done in the morning, brunch, or lunch. Who knows, you might create a new tradition?
Let your loved one help with preparations. Let them help you wrap presents, decorate the house, set the table, or make a simple dish. Break these into manageable smaller tasks that you do together to limit frustration. Sharing these activities together can evoke memories of the past.
Ask for help. The holidays are about family and friends. Allow them to help you. Set up a buddy system at parties, so someone else can help you look after them. Have potluck meals, so the burden of all the shopping and cooking does not fall on you. Delegate shopping or meals prep to others who offer to help.
Creative gift giving. For the stressed caregiver, a gift certificate for housecleaning during the holidays would be appreciated or a certificate for respite care so they can enjoy a break. For the loved one with dementia, think about soft and warm items like robes, slippers, soft clothing, shawls, and blankets, especially for those with poor circulation.
Set limits. Loved ones with dementia become tired very easily. Try to keep them to their routine as much as possible. Keep gatherings low key and short, or provide them a place to get away and lie down from the noise and activity.
Enjoy your traditions. A special dish, a favorite holiday song, or lit tree or menorah may be welcome and comforting memories for your loved one.
As the caregiver of someone with Alzheimer's or another form of dementia, you may have to adapt your holiday plans, but this does not mean that you have to miss the magic of the season. You may create new traditions or enjoy a simple, more relaxed season. You may find joy in the eyes of your loved one as they remember a past holiday. You will find gratitude in enjoying another holiday with some you love and care for.