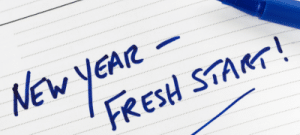 As we sing "Auld Lang Syne" at midnight on New Year's Eve, many caregivers for their aging parent or elderly loved ones will make their resolutions for the upcoming year. At Aegis Living, our wish is these dedicated caregivers are happy and healthy in 2021. We hope that you successfully master the tasks of your daily life, balanced with the care needs of your elderly loved one. As you make your resolutions, here are a few ideas that we hope will help you through this coming year:
Don't judge yourself too harshly.
No one is completely prepared for caring for their aging parent or loved one. You may find yourself on a steep learning curve, depending on their level of care. Take it day-by-day and know that you are doing the best that you can. This is not the time to berate yourself but to focus on the list of the most important tasks at hand.
Ask for help.
Don't feel like you have to do this alone. Asking for help can be difficult, but you need to think about this as a marathon and to pace yourself. Friends and family can be a huge resource for support, whether near or far. Allocate small tasks like grocery shopping, house cleaning, driving to appointments, or researching care facilities or doctors online. Often friends and family want to help but they just don't know how. It may be up to you to ask for help.
Join a support group.
You may be thinking to yourself 'where is the time for that?' Trust us, finding support from those who understand is invaluable to your wellbeing. Support groups can offer tips and assistance that you did not even to know to ask for. Learn from others who have been there. Find support from those who can empathize.
Research online.
There are many resources online, such as the Aegis Resource Center, which can offer your information, tips, and advice from seasoned professionals in the industry. We know that caregiving can be overwhelming but there are many articles and associations online that can assist on your search for information and support.
Give yourself a break.
Try a short term stay to care for your loved one at an assisted living community. You may need to take a short trip, plan a staycation at home, reconnect with your family and friends, or just give yourself a few days to recharge. Many assisted living communities offer short term stays for your loved one, where care staff can administer medication, provide meals throughout the day, accommodate them in a comfortable private room, and assist with the activities of daily living (ADL). Your loved one will participate in activities and meet other seniors. A short term stay can also be a great alternative for seniors who are resistant to move into an assisted living facility. A short term stay gives them an opportunity to try living in a community for a short amount of time to see how they like it.
Keep organized.
This may sound like a daunting project, but taking the time to organize your caregiving tasks can help to relieve your stress. Organize your loved one's medications at the beginning of each week, keep a complete list of your parent's doctors with contact information, update your calendar with appointments, or manage their finances into a spreadsheet. Taking time to organize will help you feel in control of your situation.
Keep Safe
Finally, make sure your home is safe. Pay particular attention to the kitchen; you may have to remove the knobs from the stovetop, or add a lock to the knife drawer. Car keys made need to be secured as well. If there are firearms in the house it is essential that they are locked in a safe.
Remove obstacles if your loved one is prone to falls, this includes throw rugs and especially glass topped coffee and end tables. Put yourself in their place.
At Aegis Living we hope that you and your family find health, happiness, and peace in the new year.