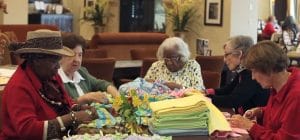 We all want to feel like we are contributing to society and leaving our mark on the world. There is a drive in many of us to volunteer for causes that we feel passionate about or support local charities. And this impulse doesn't necessarily end as we age.
At Aegis Living Aptos, near Santa Cruz, a resident knitting group has made hats for Jacob's Heart Children's Cancer Support Services. Each colorful cap is lovingly crafted and given to a child with cancer who may lose their hair due to chemotherapy. Efforts such as these not only benefit the community but also significantly benefit the residents. Using their skills to give back to the greater community provides a sense of accomplishment and personal satisfaction.
This holiday season, think of ways that your parent can give back. Check with your local senior center or place of worship to find a program or cause that might interest your parent and where they can contribute with their unique skills.
Ideas on how your parent can volunteer:
Use their personal and professional experience to mentor at-risk youth.
If your parent is an animal lover, volunteer at a local animal shelter or foster a pet.
If you parent is a veteran or veteran's spouse, they might want to volunteer for the USO. USO volunteers can assist with a variety of tasks based on their physical ability, from greeting troops as they return from overseas tours to making coffee and warm meals to providing blankets to troops at the airport during long layovers.
Crochet lap blankets for hospitals, nursing home patients, or the Red Cross.
Knit slippers with non-skid pads for Meals on Wheels or elderly patients.
Create backyard habitats for local wildlife or build birdhouses during the winter months.
Bake and deliver cookies or holiday treats to local first responders or homebound neighbors.
Read books or letters to a person who is visually impaired.
If your parent has a green thumb, plant flowers in bare public areas or volunteer to docent at a local botanical garden.
This sense of purpose is important for seniors now, as much as when they were younger. No matter how small, volunteering can spread cheer to those you help and in return, benefit your parent.
Visit one of your local Aegis Living communities today to find out about volunteer opportunities and how our residents give back to your community.