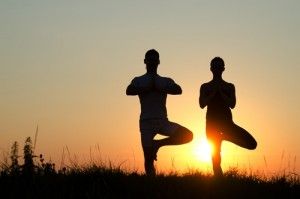 You work hard as a caregiver, but let's face it; we all need a break from time to time. It can be tough to recharge your batteries when you are looking after your parent, especially on those days when you are exhausted from life's other mental and physical drains.
Releasing tension, stress and anxiety is important for everyone. You need to be fully present and at ease when you are focusing attention on those who need you most. Feeling overwhelmed and tired isn't just difficult for you; it's also not the best situation for your loved one's well-being. You may think that you shouldn't enjoy free time if you're loved one needs care, or you may worry that something bad might happen if you take time for yourself. Constantly filling your mind with "what if?" situations isn't going to help either of you.
Relaxation tips for your body and mind:
1. Go for a hike or walk
Exercising is perhaps the healthiest way to deal with unwanted stress. Taking a walk or hike in a local park allows you to unplug, enjoy nature and work up a sweat. Serotonin, your body's all-natural "feel good" hormone, is released when you exercise, which can definitely help you feel more positive. You can either take in the relaxing sounds of nature or plug in your ear buds and listen to your favorite song as you wander along the path.
2. Enjoy a nice meal
If you have always wanted to check out that new restaurant everyone is raving about, go for it. Sometimes it is important to treat yourself to those little things that brighten up your day. Next time you feel like the stress of caregiving is too much, head to your favorite bakery, eatery or ice cream shop and enjoy your favorite food, even if it is just for a few minutes. If you are watching what you eat or don't have the time or expenses for fine dining, drink a warm cup of herbal tea or coffee and clear your head for a few minutes.
3. Get lost in a book or watch a movie
Sometimes we all need a little escape when we feel overwhelmed, and catching up on a good story is a great way to do so. Whether you are buried deep in a novel, spending some time with your tablet or watching an old movie, escaping from the pressures of caregiving for a few hours could be just the thing you need to relax.
4. Have a spa day
You love taking care of others, but it's good to pamper yourself once in a while. You can make a day of it with a facial or massage or relax with a pedicure and manicure. If you can't spring for a spa day, bring the rejuvenation home by spending an hour in a warm and luxurious bubble bath, then get cozy in your favorite pajamas.
5. Breathe deep
There are many natural ways to calm your nerves if you feel overwhelmed. Many health experts agree that light yoga, meditation and deep breathing exercises can reduce stress and allow you to focus on the present. This can keep you focused, calm and centered on the moment rather than worrying about things you can't control.
Don't let your role as a caregiver be overrun with stress and exhaustion. Although caring for your parent is important, you need to take personal time to better your well-being and give your parent the support he or she needs.
Don't hesitate to reach out if you need a short break.  Contact the Aegis Living community near you and ask about short term stays.